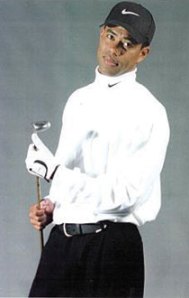 At the height of his impersonating career, Canh Oxelson was the best of the best. Bearing an uncanny resemblance to Tiger Woods, Mr. Oxelson spent over a decade as a professional doppelganger. Appearing at golf tournaments, conferences, corporate events and parties across the world, Mr. Oxelson made a name for himself as world's premiere Tiger Woods impersonator (though he admits he is nowhere near an ace on the links).
While looking like the world's most famous golfer is impressive in it's own right, Mr. Oxelson also happens to be a Harvard-educated admissions director who just took the helm of Horace Mann's college guidance program.
When Tiger was becoming a household name in the late nineties, people began approaching Mr. Oxelson and asking to take his picture. "I remember one gentleman who said you could actually make quite a bit of money," Mr. Oxelson told The Observer. "Lo and behold, he was exactly right," he said. After sending professional photographs to different agencies around Los Angeles, Mr. Oxelson caught his break on a late night TV show in 1997. As Tiger continued to set records on the fairway, Mr. Oxelson raked it in. "He skyrocketed in popularity and so did my business," Mr. Oxelson explained. But unlike your average Elvis impersonator who dreams of headlining a show on the Vegas strip, Mr.Oxelson had loftier goals. "I went to grad school at Harvard and I paid for a lot of it by doing this lookalike work." he said.
Booking gigs in commercials (including one for The Tiger Wood's own foundation), playing at charity tournaments and even getting a write-up in Sports Illustrated, Mr. Oxelson was living every celebrity-impersonator's dream. But as Tiger's career hit the skids, and he became better known for his dalliances than his drives, Mr. Oxelson was quietly building his own reputation as a college counselor in the country's toniest private schools, including the Los Angeles's celebrity-offspring clearing house  Harvard Westlake.  Mr. Oxelson made the move to Horace Mann last summer and is eagerly awaiting his first batch of acceptance letters this December.
In recent years, Mr. Oxelson has all but put an end to his look-alike career. "For a while that was a great thing," he told The Observer in a phone interview this week. But after impersonating Tiger at events across the globe, Mr. Oxelson grew weary of the routine. "The novelty's worn off," he explained. He would be up for doing Tiger gigs again, however, if the price was right. "It would have to be something pretty exciting. And I don't see that happening," he said, sounding a bit jaded by the fast-paced look-alike industry. "Plus I'm really, really busy," he added. Come on, Mr. Oxelson! With legacies and private SAT tutors all those Horace Mannites are shoe-ins at any Ivy league school. That said, we're holding out hope that he can make time for the Observer holiday party.