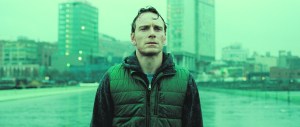 Too much sex is bad for you. That's the only message discernible to the naked eye in an interesting but hollow film about sex addiction called Shame, and believe me when I tell you the eye is not the only thing in it that is naked. The star is Michael Fassbender, the versatile and fearless actor of Irish-German descent who skyrocketed to attention as the imprisoned IRA hunger-strike martyr Bobby Seale in Hunger. He can also currently be seen, in and out of his underwear, as psychiatrist Carl Jung in A Dangerous Method. Mr. Fassbender is excellent and intense, but he hasn't much use for clothes. Casting him in anything saves money on the wardrobe budget.
Shame, which reunites him with cheeky British artist-turned-director Steve McQueen (who will never be taken seriously unless he changes his name; somebody else got there first), centers on a New York businessman named Brandon who eats, breathes, and thinks of nothing else 24/7 but sex and more sex. He can't get enough of it. He orders an early-morning prostitute before work, and when she leaves he hits the shower and works himself over again. Sex by proxy? He's into that, too. At the office, he goes to the men's room and knocks off another quickie. Home from work, he wastes a lot of time watching Internet porn in a state of, shall we say, stimulation? He's intelligent, well-educated, sartorial and well-groomed, but hermetically sealed against life's emotional pitfalls. He has no interest in food and consumes endless liters of alcohol only to dull his senses. Lonely and alienated, he doesn't read, watch movies, attend the theater, root for a ball team, travel or explore new restaurants. Sex is his nutrition, and any attempt at normal dating ends before it begins. A mere hint of commitment leads to erectile dysfunction, sending Brandon plummeting further into the dark abyss, experimenting with all forms of sex in every combination. Mr. Fassbender's focus is on showing every insatiable moment of this kind of orgasmic compulsion, exposing more of himself than ever. Quite a bit more, as a matter of fact. You might say he lets it all hang out—in more ways than one. The hunky star, it must be added, is in very good shape for the assignment.
Brandon keeps his fetishes a secret until the intrusive arrival of his neurotic, suicide-prone nymphomaniac sister Sissy (another heartbreaking performance by Carey Mulligan), a bottle blonde with black roots and no inhibitions. She's like a sex toy—still an English rose, but this time with the bloom rubbed off. Two drinks and she's anybody's—including Brandon's married boss. Watching her own promiscuity at work in his own apartment only magnifies Brandon's own perverse problems. Neither of them can commit to a real relationship and their frustration brings out the worst in each other as they forge a love-hate co-dependence based on sex, sibling needs and verbal abuse. Self-destruction seems inevitable, but while we wait for something to move the action along, we have to watch a pair of emotional twin train wrecks happening simultaneously. In a movie that leaves nothing to the imagination, this much existential nonstop misery holds a certain fascination, but the movie never comes to anything valid or cautionary a normal viewer might take home.
Shame builds a repellent and depressing picture of existence on the edge of insanity, but what the movie fails to do is tell you why these people are the way they are, or indeed, why their addictions are so unhealthy. It's actually surprising how empty and boring nonstop sex can be. When it substitutes for plot, character, movement and emotional content, sex is just something that clogs up the hard drive on your office computer. Brandon is spiritually dead, Sissy is parasitic and totally lost. When they both hit rock bottom, he goes on a real binge and hits the gay bars in a gruesome and ferocious eruption of carnal violence, and she ends up in the hospital. It's hard, zombie sex, without joy. This, of course, is the point. But patience wears thin. It's the study of a man whose soul has been peeled away, like coring an apple. But I wouldn't call it sexy—or entertaining. What does Brandon learn? What do we learn? Director McQueen shares no primal truths, offers no resolutions, and the movie seems pointless. It seems almost wicked to spread on all that enticement and titillation, and then throw the sandwich away.
rreed@observer.com
SHAME
Running Time 101 minutes
Written by Abi Morgan and Steve McQueen
Directed by Steve McQueen
Starring Michael Fassbender, Carey Mulligan and James Badge Dale
2/4