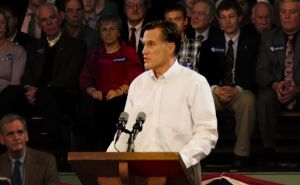 Mitt Romney released his first television ad for the upcoming New Hampshire primary last night and it's a one minute attack on President Obama's economic policies. In the ad, Mr. Romney promises to "make sure that that American is a job-creating machine" by getting rid of federal government programs.  
Mr. Romney's ad begins with footage of President Obama on the campaign trail in New Hampshire in 2008.
"I am confident that we can steer ourselves out of this crisis," President Obama says.
Text flashes across the screen that reads, "He promised he would fix the economy, he failed.
The footage ends with an excerpt of the President mocking the campaign of his former rival, Senator John McCain, for wanting to shift focus away from the economy. Taken out of context, it appears that President Obama is referring to himself rather than Senator McCain when he says: "If we keep talking about the economy, we're going to lose."
After showing the President's old campaign footage, Mr. Romney appears in the ad explaining all the things he'd like to do to the government and his blueprint for the miraculous "job-creating machine."
"I'm going to do something to government I call it the smaller, simpler smarter approach to government–getting rid of programs, turning programs back to states, and finally, making government itself more efficient," Mr. Romney says in the commercial.
Mr. Romney's ad intersperses footage of him speaking about his plans with clips of construction workers and small town streets. He specifically identifies the President's health care plan as a danger to society.
"I'm going to get rid of Obamacare. It's killing jobs and it's keeping our kids from having the bright prospects they deserve," Mr. Romney says.
At the end of the ad, Mr. Romney vows his leaner, meaner approach to government will have results.
"I'll make sure that America is a job-creating machine like it has been in the past. It's high time to bring those principles of fiscal responsibility to Washington, DC.," Mr. Romney says.
Mr. Romney is currently in second place in the polls behind Newt Gingrich, the latest in a series of improbable frontrunners who have emerged thanks to many conservative voters' apparent dissatisfaction with Mr. Romney. Watch Mr. Romney's ad below.