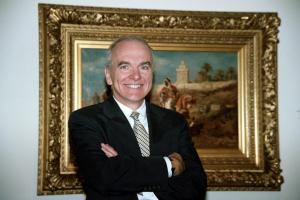 After 31 years at the helm of Utica, New York's Munson-Williams-Proctor Arts Institute, director Paul Schweizer will step down in February, The Observer-Dispatch reports. (Thank you to Artforum for bringing it to our attention.)
In a news release, Mr. Schweizer said, "It has been profoundly satisfying to lead one of the nation's preeminent smaller art museum." Assistant director Anna D'Ambrosio, who is also curator of decorative arts, will replace him.
And what a preeminent small art museum it is. Founded in 1919 by prominent local collecting families, the MWPAI is housed in an austere modernist building designed by Philip Johnson, which was completed in 1960.
The Institute's 25,000-work collection includes 19th-century American painter Thomas Cole's four-panel masterwork The Voyage of Life. (Another copy of the works is in the collection of the National Gallery of Art, in Washington, D.C.)