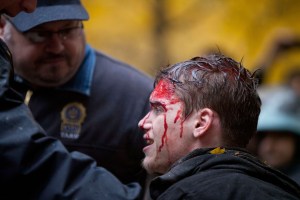 The porn industry has been in a rut ever since the Internet starting offering amauteur sex for free. Now everyone's looking for the next big, flashy hook: 3-D porn? Virtual porn? Snuff films?
Well, that last one might not be too far from the mark: New York-based porn company Dirty Boy Video has just released "Occupy My Throat," a homoerotic caper through the tents of Oakland's Occupation. (Hopefully, the stars escaped unscathed during the police raid.)
But now Dirty Boy Video is expanding their repertoire back on their home turf. Remember Brendan Watts, the protester who lost his virginity in Zuccotti before having his head bashed in and pants pulled off by the NYPD during OWS' Day of Action?
The men behind Dirty Boy are reaching out to Mr. Watts, writing an open letter appealing to his sense of social injustice as a reason why he should star in their porno:
We at Dirty Boy Video believe in free expression, challenging the status quo, and standing up to injustice.  It is in this spirit that we present an open letter to Brandon Watts, the blood soaked protester arrested on the Day of Action:

Dear Mr. Watts,

We are vocal supporters of Occupy Wall Street and the statement it makes.  Your energy, commitment and drive have directly contributed to the success of the Occupation movement. As I watched the police drag you away in handcuffs, your face covered in blood, I could only think, "Wow, he's hot!" Later, I learned you were among the first to pitch a tent in Zuccotti Park, making the movement a literal occupation. The NY Daily News reports you even lost your virginity in that park. Congratulations! Dirty Boy Video has long encouraged young men like yourself to pitch tents in parks. I offer you the opportunity to perform on our website, an opportunity to express yourself and your politics freely and without censor.  Working together we can create a sexy, fun platform that inspires you, be that with other actors, actresses or both. Whether you choose to work with us or not, I salute your dedication and your courage.

Sincerely,
Andy Fair
President
DirtyBoyVideo.com
We're pretty sure you don't need to sign up with Dirty Boys to "express yourself" "without censor" on the Internet. That's why God invented XTube. Really, the worst thing for an Occupier to do is get involved in the porn industry, which we all know from that one David Foster Wallace essay on the AVN Awards is full of money-hungry, superficial crazy people…just like Wall Street.