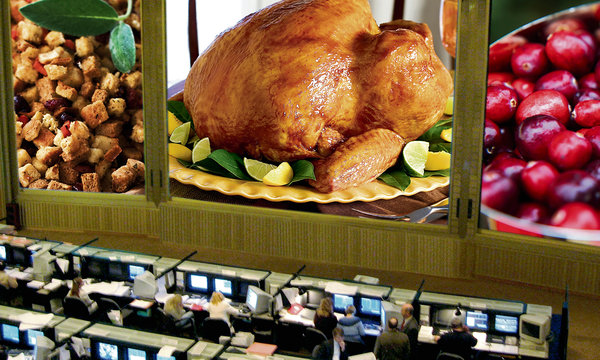 The New York Times Thanksgiving Help Line, once a modest live blog manned by outgoing dining critic Sam Sifton, looks like a mission control center this year.
Due to the overwhelming volume of questions, the Dining section decided to kick off a week of aid with a print Q&A and keep the conversation going online, with the help of a new interactive template set up by Web producer Emily Weinstein.
"I guess we're overcompensating for having lost Sam," former dining editor Pete Wells wrote the Observer. (Mr. Wells, recently appointed restaurant critic, was replaced by Susan Edgerley.)
Having print and online space devoted to Thanksgiving questions helps the section touch on both the popular, perennial concerns (Will stuffing cooked inside the bird give my guests salmonella?) and the "utterly sui generis," Mr. Wells said, "like the person who asked for suggestions for incorporating smoked monkey meat into the meal."
The holiday hub includes a series of videos by "Good Appetite" columnist Melissa Clark, so there's no confusion about what she means when she says "stick the thermometer into the thickest part of the thigh."
"The funny thing about this project is that I can't figure out if it's web-first or print-first or really, what it is, period," Mr. Wells wrote.
We hope he's more decisive about Le Bernadin's paprika sauce!