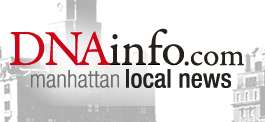 Around this time last year, Murray Weiss, the New York Post investigative reporter who turned the governor of New York into the Socks-On John, announced he was leaving the tabloid for an online reporting start-up called DNAinfo.
A collective "Where?" shot across the Internet.
But over the past 12 months the Manhattan-centered local news site with a remarkably uncatchy name has started to catch on. Other Manhattan beat reporters have certainly noticed the site's journos—the ones hunched over a laptop outside Landmarks or community board meetings, portable Wi-Fi blinking away, filing copy to their editors before their print competitors can squeeze in a cigarette break. Rivals have certainly noticed their scoops.
Twenty-one people were laid off a downtown café due to Occupy Wall Street–related business drop-offs.
A Greenwich Village McDonald's employee beat two woman with a metal grill behind the counter.
A swarm of bees shut down Mott Street in Chinatown.
A bout of drunk puppy-shopping plagues West Village pet stores.
Even a steady stream of local stories splashy enough for national pick-up does not mean that a political press secretary will be handing DNAinfo exclusives any time soon. But then again: in June, Keith Kelly floated a rumor that DNAinfo was taking over the Daily News in his Media Ink column. True or not, the report seemed a signal that the site had arrived.
And soon, New York's outer borough press corps will know DNAinfo, too. The company will expand to all five boroughs in early 2012, editorial director Leela de Kretser told The Observer on Monday. After rolling across New York City, the company will begin a national expansion, starting in Chicago and hiring about 30 reporters total.
When DNAinfo talks about local news reporters, the company is not referring to citizen journalists, either. Its 15 current reporter/producers, carefully hired news obsessives, rarely leave the Manhattan neighborhoods they cover, typically filing from the local coffee shop.
"The less we see of them the better," said editorial director de Kretser told us.
To get the news first, DNAinfo has constructed a multimedia newsroom in the cloud. Reporters are outfitted with cell phones, laptops, point-and-shoot digital cameras with video, Final Cut Pro and MiFi portable Wi-Fi. A proprietary CMS enables reporters to update the site from their phones.
"I can drive someone crazy at any time of night," Ms. de Kretser joked.
Like Patch on steroids, it's an online-only news site that is constantly updating with hyperlocal micro-scoops written in lucid, pun-studded tabloid prose. The fact that a staff of 15 routinely scoop the News and Post, often getting national pick-up is, in large part, thanks to DNAinfo's pedigree. The staff boasts technological know-how that puts the tabloids to shame, but DNAinfo's editorial direction has distinctly tabloid sensibilities. Its editors include Post and News veterans, and Ms. de Kretser is a scholar of the form. After working at the Post, the Australia native helped Michael Wolff write the Rupert Murdoch biography, The Man Who Owned the News.
Now, the site adds the Brooklyn Paper, the Queens Courier and the Staten Island Advance to its list of competitors.
"We hope we can have as good a relationship with them as we do with Manhattan papers," Ms. de Kretser said.