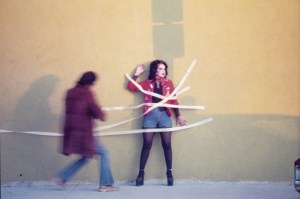 Over in The Los Angeles Times, Jori Finkel notes that few of the more than 60 exhibitions organized under the aegis of the Getty's "Pacific Standard Time" inititive, which encouraged museums to organize shows about the art of Southern California, from 1945 to 1980, are scheduled to travel to museums outside of the state.
Not a single one of them is currently slated to visit New York.
Ms. Finkel writes:
"One sign of success for a museum exhibition is the willingness of other museums to host the show, bringing it to new audiences nationally or internationally.

"By that measure, many of the shows that make up Pacific Standard Time, however strong their reviews, are underachievers."
While out in Los Angeles last month, Gallerist saw quiet a few shows we would have been really pleased to see in New York, especially the sprawling "Under the Big Black Sun" exhibition at the Museum of Contemporary Art, curated by Paul Schimmel, which would require a few days to see in total.
Visiting the city, we failed to the Los Angeles County Museum of Art's retrospective of the art collective ASCO, "Elite of the Obscure," but it will thankfully be heading to Williams College in Williamstown, Mass.