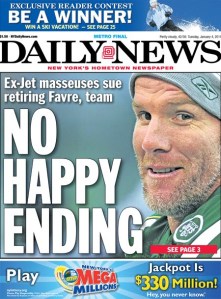 The bad news keeps coming at the New York Daily News. Another two staffers have been let go, and the rumor is that there are more to come.
We've received word that Michael Bowers, a copy editor at the New York Daily News and a twelve-year veteran of the paper, has been let go, along with Jane Ridley—a senior features writer at the paper—who was escorted out this morning after being given the final word that she was being cut from the staff.
A source familiar with the situation described Ms. Ridley as a "gracious young mother of two babies," noting her as "just the sort of person who needs to be escorted out, right?"
They concluded: "I haven't seen so much talent so mishandled since Ishtar."
In an invite to commiserate with their fellow staffers this Thursday evening, the "the News reporters, photographers and librarian who were dismissed on Friday" were listed by name (many of whose departures were reported on Friday by Capital New York):
Frank Lombardi (Reporter)
Bob Kappstatter (Deputy Police Bureau Chief, 43-Year Daily News Veteran)
Kathleen Lucadamo (City Hall Reporter)
Jose Martinez (Staff Writer)
Scott Shifrel (Federal Courts Reporter)
Mike Jaccarino (Staff Writer)
Peter Edelman (Senior Photo Archivist)
John Roca (Staff Photographer)
Linda Rosier (Staff Photographer)
Karen Angel (Production Editor)
John Cochran (Writer, Front Page Editor)
Bill Fisher (Copy Editor)
Michael Dorris (Copy Editor)
Barbara DiGiarmo (Staff Writer)

We've heard the final layoff count will be twenty News staffers, which means—by the Observer's count—that there are four more layoffs potentially on their way to the newsroom.
Last week, Daily News photo editor Gretchen Viehmann resigned from her post reportedly to spend more time with her family.
In October, Daily News managing editor Stuart Marques was out from the paper.
A few weeks ago in the Wall Street Journal, Mort Zuckerman—publisher and owner of the NY Daily News—was praised for his business savvy, as his "bearish outlook since 2006" was regarded as having "been good for his business."
Last Thursday, Mr. Zuckerman was seen on Bloomberg News decrying the lack of jobs being created. "So we're not making a dent in the unemployment numbers," he noted.
If not in one regard, then perhaps—as evidenced—in another. A spokesperson for the New York Daily News did not return immediate request for comment.
fkamer@observer.com | @weareyourfek