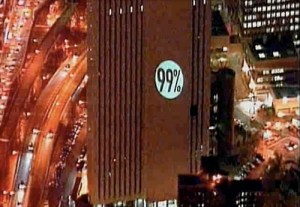 Update: We were informed that the people behind the Verizon project were not, as earlier stated, members of the CWA. The New York Observer regrets this error and have updated below.
As members of Occupy Wall Street marched across the Brooklyn Bridge for the second time (because lord knows it worked out so well when they did it) and the number of city-wide arrests started piling into the 300s, a message suddenly appeared out of the darkness. Was it the bat signal in the night sky? Was the Dark Knight truly a member of the 99% after all?
No, it was just disgruntled members of Communications Workers of America. They've been on strike with Verizon, Mark Read and members of OWS' media team, and decided to project solidarity with the 99% on one of the company's buildings in a visually impressive but sort of creepy They Live-era stunt. Yes we can!


Before flashing all those cities, the image that first appeared on the Verizon building was a "Mic Check" followed by the phrase "You are part of a global uprising. Another world is possible."
Now all we need is Rowdy Roddy Piper to force the rest of the world to wake up and put on those magic glasses so they can see the OBEY logos on everything.