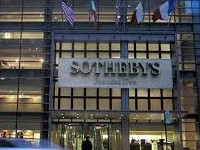 After a series of protests in solidarity with the locked-out art handlers, Occupy Wall Street will return to Sotheby's tonight for what is likely the auction house's most important remaining event of the year: the contemporary evening sale.
Sotheby's has increased security in the last several weeks after disruptions during sparsely attended afternoon sales. The Impressionist-modern sale last week went by largely uninterrupted, though a release from a union spokesperson says at that sale, "several members of OWS were seen being dragged out of the building by security and arrested by police."
The release also says that since locking out its art handlers on July 29, "the company has become a symbol of corporate excess."
It remains to be seen if an airhorn-equipped protester will be able to sneak into the auction house for its sale this evening. Clyfford Still's painting 1949-A-No.1 is expected to fetch $25,000,000 to $35,000,000.