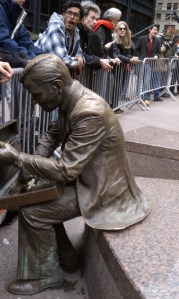 When we last checked in, protesters and police were standing off at Zuccotti Park as NYPD officers guarded anyone from entering, openly disobeying a New York Supreme Court Judge's injunction against barring anyone from entering the park. The judge was removed from the case, a new one was presented, and we're currently awaiting a verdict as to whether the protesters will be allowed back into the park.
Reporters Tweeted out much of the court hearing. Some of the highlights from The New York World's Alicita Brennan:
A lawyer from Zuccotti Park owner Brookfield Properties argued that "Allowing people to live in the park really violates the purposes of the park," and called their conditions "unsanitary." Brookfield also argued that "Zuccotti hasn't traditionally been used for first amendment activities," arguing against any of the park's historical use, in an attempt to mount a case fighting the legality of the unannounced raid on the protesters that happened this morning. Occupy Wall Street's legal aid argued that "other owners of privately owned public spaces don't dispute first amendment activities on the land" and that ""Brookfield just made these rules up after the occupation began to prevent the protest."
At a press conference after the hearing, The Village Voice's Nick Pinto reported that Occupy Wall Street lawyer Gideon Olivef, when asked what would happen if the judge doesn't rule in their favor, responded that they would "consider options."
Speaking of reporters, the New York Daily News has been trying to keep tabs on which ones have been detained by police: "AP writer Karen Matthews was taken into custody; also AP photographer Seth Wenig and Daily News reporter Matthew Lysiak," were all noted as having been arrested by the Daily News.
DNAInfo.com Managing Editor Michael Ventura confirmed with The NY Observer that their reporter Patrick Hedlund was arrested at 4:30 A.M. this morning while covering the OWS protests on the perimeter of Zuccotti Park.
A freelance photographer working for the online publication was also arrested. Paul Lomax was arrested at Duarte Square on Canal and Sixth Avenue later in the day as protesters were moving towards the area. Both Mr. Hedlund and Mr. Lomax were wearing NYPD-issued press credentials at the time of the arrest, according to a Mr. Ventura. Hedlund has already been released and received a Desk Appearance Ticket, he added.
"He's fine," said Mr. Ventura. Mr. Lomax was still in custody.
"We're still trying to figure that out," said Mr. Ventura of the situation.
"Obviously we're concerned," said Mr. Ventura. "(Hedlund) was doing his job and was arrested for that and it was pretty clear that he was journalist and there was no ambiguity about that. He was there with his NYPD press credential around his neck."
Finally, the Daily News is reporting that City Councilmen John Liu, Bill DiBlasio and Scott Stringer have "blasted" Mayor Bloomberg, New York state governor Andrew Cuomo, the New York City Police department for the midnight raid.
We will continue to post daily updates on Occupy Wall Street throughout the day as the story continues to develop. Don't forget to follow our OWS reporters who are live on the scene throughout the day:
And continue to follow @NewYorkObserver for all aggregated updates as they come in.
Additional reporting contributed by Daniel Edward Rosen.
fkamer@observer.com | @weareyourfek