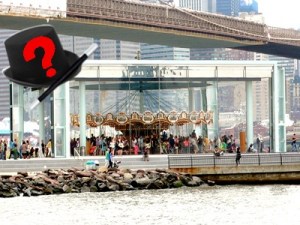 Brooklyn's newest carousel is lacking its promised "magic."
Although Jane Walentas' Brooklyn Bridge Park carousel has been up and running for two months now, the "Magic Lantern" effect conceived of by French designer Jean Nouvel has failed to deliver on its promise of creating a shadow box effect to viewers after the sun goes down. But no worries, it only cost around $9 million to put together.
According to The Brooklyn Paper however, after spending $385,000 to acquire the almost hundred-year old carousel and 22 years of restoring it, Jane herself seems rather unconcerned about the lack of sizzle being delivered by Mr. Nouvel's failed effect.
She told the BP, "Most people say, 'Who cares?' It looks beautiful without the shadows."
But after that kind of expenditure and all the hoopla that surrounded the carousel's opening, it has to irk Mrs. Walentas at least a little bit that the incredible amount of money doled out to Mr. Nouvel has not yielded the promised result.
And if it really doesn't bother her, it must drive her husband, "Mr. DUMBO" himself, David Walentas, absolutely insane.
tmcenery@observer.com