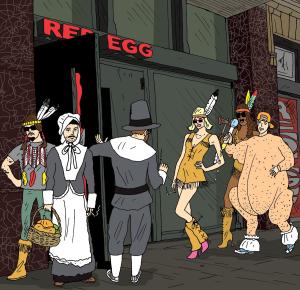 We were waiting in line outside Red Egg, an unassuming Chinese restaurant in Nolita, a little before 1 a.m. on Saturday night, when we overheard something we wished we could unhear.
"I just love waiting in line like a nor-mal person," said a female voice, dripping sarcasm.
We knew where she was coming from. There is a certain terror involved in toting one's friends to an unheard-of ethnic restaurant in an unfashionable neighborhood with the promise of a good party and then finding oneself stuck in a line. In her defense, she was an abnormally tall, abnormally symmetrical and abnormally blond person.
But such is the hazard of clubs like Red Egg, especially tonight, with a party thrown by Interview's hunky creative director Karl Lindman underway.
"I like the old New York mix," Red Egg partner Travis Bass told The Observer. "Young, old, rich, poor, beautiful, ugly."
He trusts Vance Brooking, another former model, to filter for the club's 2,000 or so "friends and family" and keep the "GP," or "general population," to a minimum.
"It got a little too GP during Fashion Week," Mr. Bass admitted.
In the months since then, Red Egg has become the brick-and-mortar refuge for the downtown crowd left stranded when Madame Wong stopped calling. After a series police run-ins and investor squabbles cut the pop-up party short, Mr. Bass, a Madame Wong's planner, decided to invest in Red Egg, the slightly more upscale joint around the corner from Wong's site, Jobee. The restaurant is slowly transforming into a hybrid space inspired by the devolving party scene from Jacques Tati's Play Time.
But unlike Madame Wong's, and Happy Endings before it, there is no irony here. Red Egg really is a nice place to have dim sum. Philip Seymour Hoffman's favorite.
At about 11 o'clock Wednesday through Saturday night, the Zagat-rated restaurant strenuously hatches a night club, sometimes before lingering diners' eyes. Tables are spirited away, constellations of ceiling lights are extinguished, and the deep red walls are softened by a smoke machine, commingled with cigarette smoke, the illicit yet ubiquitous badge of downtown nightlife.
Located on the ungentrified corner of Centre and Howard, Red Egg aspires to more than gimmickry and seems primed to become fixture in a nightlife archipelago forming on the Nolita-Chinatown border, anchored by Kenmare, dressed up by Mister H, fueled by Pulqueria and soon to be invigorated by Le Baron, the much-anticipated Andre Saraiva joint.
"I tell the DJs not to play any bad songs between 2 and 2:30," Mr. Bass said, "because that's when Kenmare gets bumping."
Red Egg is chasing the balance of clubby exclusivity and homey informality that no venue has nailed since the Beatrice Inn (or so we're told), while recognizing that without the economic insouciance of Beatrice's era, it's a much subtler game. They offer bottle service, but it's not advertised, nor can it be leveraged to get past the bouncer. It is offered in a small mirrored VIP section adjacent to the dance floor. (Julia Restoin-Roitfeld was granted the convenience when she held her birthday there earlier this year.)
Simonez Wolf, a former Beatrice DJ who throws parties at Red Egg, told The Observer the club serves as an antidote to the inauthenticity that arose post-Beatrice, when the scene's alphas landed gigs as paid hipster-wranglers at hotel bars deep in GP territory like the meatpacking district or the Lower East Side.
The resulting crowd is an eclectic, attractive mix of career club kids (the male elders distinguishable by their shaved heads), minor international celebrities (Guy-Man, one half of Daft Punk, went unnoticed sans helmet), models disguised as chemotherapy patients, and that class of youngish professionals working in art, fashion, music and media industries who are unified only by their ability to pull off hats: large-brimmed felt floppy hats, vintage snap backs, short-brimmed cyclist racing caps and a wider array of knit watch caps than this mild November merits.
At six months old, the venue is not entirely attenuated to the needs of this nighttime crowd. Metallic orbs lamps hang from the ceiling at a banquet-top dancer's elbow height, and a row of seats near the front entrance with poor visibility but minimal privacy became a dumping ground for coats. But Mr. Bass, an apprentice of Limelight and Tunnel impresario Peter Gatien, told The Observer that trial and error is one of the luxuries of abandoning the pop-up circuit. Those front tables, for example, will soon be replaced by more intimate, high-backed banquettes, "good for doing bad things."