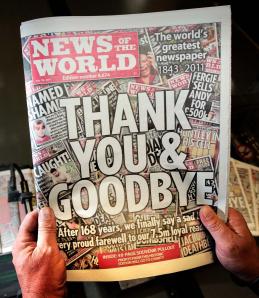 Things we learned about the British tabloids from watching former News of the World deputy editor Paul McMullan's testimony to the British government today:
— British tabloids have moles in rival British tabloids.
— British reporters will pay sources tens of thousands of pounds for a good scoop.
— "Dangling a carrot with a lot of money was a way to get the best stories, which the British public lapped up."
–There's a lot of hiding in shrubs and making secret recordings and digging through garbage.
— If celebrities wanted to stop being bothered by the paparazzi they should stop being celebrities.
— Car chases after celebrities are fun.
—  "Privacy is the space bad people need to do bad things in" and "privacy is for pedos" — as in pedophiles.
— Hacking Milly Dowler's phone was "not a bad thing for a journalist to do" and "we were doing our best to find the little girl."
— "We did all these things for the editors, Rebekah Brooks and Andy Coulson" and "they're the scum of journalism…"
More at The Telegraph and The Guardian.