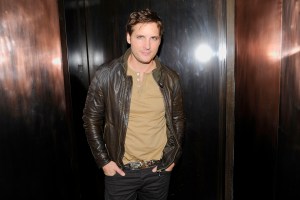 "We love you in American Horror Story," we gushed to recently-outed actor Zachary Quinto last night. We were at the Andaz Hotel, where directors, producers, and actors (along with alcohol sponsors) gathered to toast the winners of Gotham Independent Film Awards, held earlier that evening at Cipriani's. We had cornered Mr. Quinto, whose movie Margin Call was nominated for Best Ensemble Performance (though it lost out to Beginners).
"I'm only going to be on one more episode," the ethereally attractive actor told us.
"But you're already dead! They can't kill you off!" (It's true…Ryan Murphy's dead characters have more screen time then the living.)
Mr. Quinto mulled it over while scanning the room for a quick exit strategy. "Sure…I guess dying on that show is more like job security."
Peter Facinelli, best known to Twi-hards as Carlisle the Vampire (but better known to us as the jock from Can't Hardly Wait, or Nurse Jackie, or Six Feet Under…) stood by the staircase. He was shorter in person, though without the creepy blonde dye job he gets on Twilight he was much better looking in person.
"Why do you think people keep seizing during Breaking Dawn?" we asked him.
"You know, I heard about that," Fancelli responded gravely. "I think they must be dropping too much pot before going to see the movie."
"You think Twilight fans are potheads?" (Also, who says "dropping pot?")
He shrugged. "I like your tattoo," he said, pointing at our arm. Over the course of the night, about 10 other people used that as an opener/closer for any conversation. Like the short, bearded guy in line for the cured meat plates. After complimenting our tattoo, he stood there expectantly.
"Thanks."
"No problem."
"Okay. Um…having a good evening?"
"Pretty great," he said, "Though our movie didn't win."
"Oh, what did you direct?" we asked the gentleman.
"Martha, Marcy, May, Marlene."
We were talking to Sean Durkin? Suddenly, the conversation got a lot more interesting. We loved cults, we said. Had he read The Family? Yes, he had. Had he listened to the last 18 minutes of the Jonestown Massacre? Yes, he had. (We also might have mispronounced the name of his movie so many times that he started jokingly referring to it as "Martha, May, Whatever the Hell It's Called.")
"I wanted to do a cult film for a very personal perspective," he told us. "Not what you find out later about these things, but how they came to be."
"What's your next movie going to be about?" we asked.
"Daisies," he replied dryly. "Great tattoo. I have to go home."
We did too. Outside, we ran into one of Martha, Marcy, Whatever the Hell It's Called stars, John Hawkes. He lit our cigarette while Breakthrough Director nominee Mike Cahill (Another Earth) tried to convince Mr. Hawkes to come to the Jane Hotel.
"I have a five a.m. flight, I'm just going to stay up," Mr. Cahill said, holding on to a couple of fur-and-sequined clad girls. "You should come by."
Mr. Hawkes demurred, and so did we. After all, we had to go home and catch up on American Horror Story.