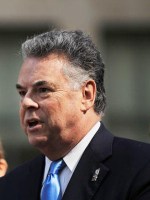 Peter King appeared on the radio show of his favorite person to hate on, Don Imus, and blasted the Occupy Wall Street protesters as a "bunch of lowlife dirtbags. They should have gone out a long time ago."
Mr. King has long been critical of the Occupy movement, telling a radio host when the protests first began that they were "anti-American and anti-Capitalist."
But he went a lot further on Imus, describing the demonstrators as "People living in dirt and disease. Sanitation workers were saying it was the worst smells they ever had anywhere. It really bothered me that the media were giving these people credibility. You could have a legitimate cause but you don't have to be living in dirt, drugs, sex, the whole bit."
He also blasted the media for the way they covered the protests.
"They were absolute lowlifes and they were somehow exalted as being freedom fighters. A public park means it should be open to the public. And except for them nobody else could use that park."
Mr. Imus cut in to say that while he disapproved of dirt and filth, he had no problem with drugs and sex.
Mr. King was having none of it.
"A bunch of lowlife people down there. What that does to the neighborhood. The rapes that were going on. These people were on the outs of society and somehow we exault them to some kind of sainthood."
Take a look: