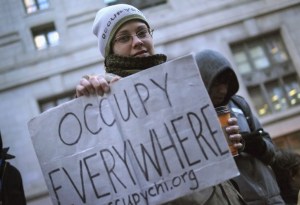 Occupy Wall Street might be having trouble occupying the hearts and minds of average Americans. A new poll conducted by USA Today and Gallup found 59% of people in this country don't know enough about the movement to have an opinion about it. Though most Americans remain ambivalent and/or unaware of the ongoing occupation demonstrations, the pollsters did notice an uptick in disapproval with the protests.
Pollsters found that 56% of respondents don't describe themselves as either supporters or opponents of the movement. Though the majority of Americans surveyed didn't know or care much about the protests, the poll found disapproval of the protests had increased from 20% to 31%.
This poll was conducted via phone interviews this past Saturday and Sunday. Pollsters spoke with a random selection of adults from all 50 states and the District of Columbia.