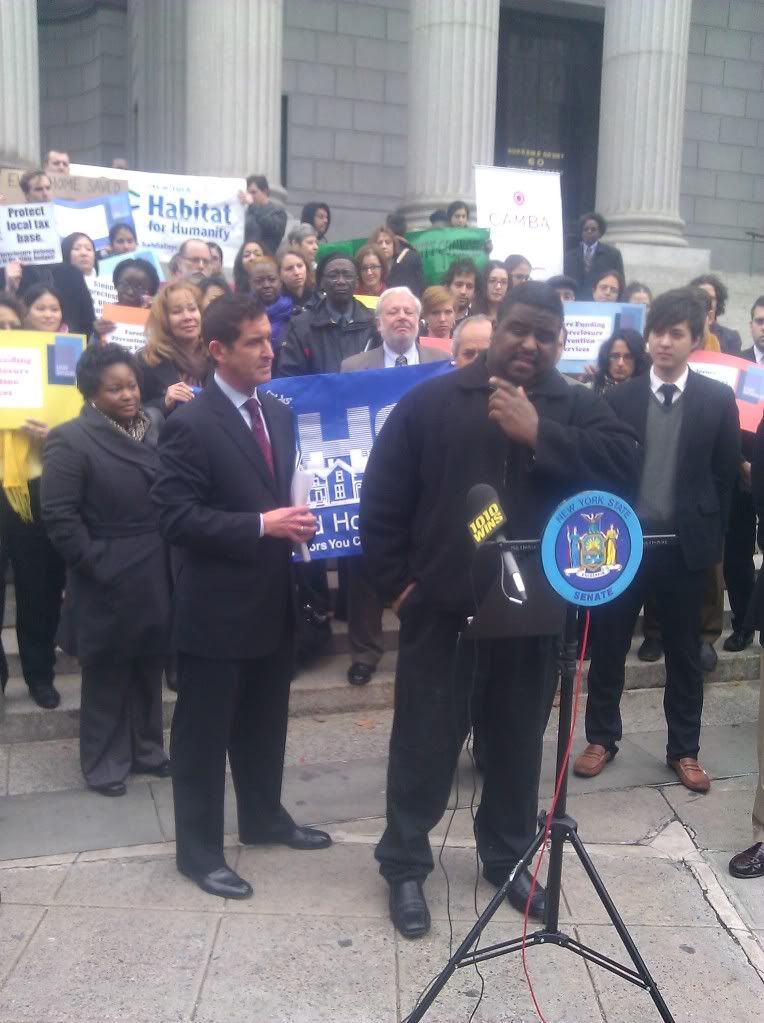 With the holiday season approaching and the weather taking a turn for the worse, a group of activists and politicians led by Bronx/Westchester state senator Jeffrey Klein rallied today for more foreclosure counseling and legal aid funding in next year's budget.
"Preventing foreclosures not only keeps hard-working New Yorkers in their homes now, but saves our neighborhoods from devastating ripple effects later," Mr. Klein said outside the Center Street courthouse. "Property values go down, crime goes up, and our tax base shrinks with every boarded-up home in our community."
Klein, whose constituency has one of the highest foreclosure rates in New York, is advocating a renewal of the $25 million in funds allocated to the state's Housing Trust Fund Corporation in 2008. Since then, programs funded by the agency have saved the state $1.9 billion in lost property value and tax revenue while keeping more than 14,000 families in their homes, according to Mr. Klein.
This year's budget, however, did not renew the $47 million allocated over the previous two years. With further cuts predicted for the 2012-13 budget – and Governor Andrew Cuomo's intransigence over renewing the "millionaire's tax" – foreclosure programs will lose 70% of their staff and 76% of their current operating capacity, according to the Empire Justice Center, a public interest law firm.
"Because of the meltdown in the banking industry, much of which is due to their illegal practices and very loose regulations over the housing industry, the cuts have to hit homeowners," Adriano Espaillat, ranking member on the State Senate's housing committee, said at the rally. "Twenty-five million dollars is a drop in the bucket to save the American dream of thousands of New Yorkers who worked very hard to own their own home."
Fallout from the 2008 sub-prime mortgage crisis continues to resonate in New York, though the state has suffered less relative to many other states. Eric Schneiderman is one of only two attornies general to resist a White House-backed settlement with banks over mortgage fraud, and has launched an investigation into alleged illegal behavior by banks handling mortgages and foreclosures before the crisis.
Meanwhile, more and more New Yorkers find themselves facing foreclosure. Over 1,800 city homeowners have received notices from their banks since September, according to Mr. Klein: without an advocate to defend them, these households alone could lose the city over $18 million.
"Because I'm disabled, they tried to tell me I couldn't stay in my home," Jose Perez, a father of four whose faced eviction after his Staten Island home was damaged by flooding, said at the rally. "But because of these people that help the poor and the city workers that work so hard to pay taxes, I'm able to keep my home," he continued, close to tears. "Hard-working New Yorkers want to stay in their homes so that they can spend Christmas and the holidays with their families."