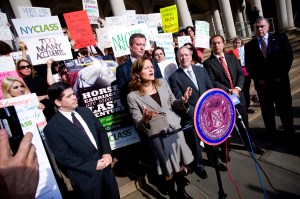 New York's iconic carriage horses may join the ranks of the city's unemployed if 2013 mayoral hopefuls Bill DeBlasio and Scott Stringer have their way. The two spoke out in support of a City Council bill to phase out the horse-and-carriage industry.
"The use of horses in Midtown Manhattan as a tourist attraction should come to an end," Manhattan Borough President Stringer said Monday at a press conference outside City Hall. "It's not right, it's not safe, and we can do better."
Mr. Stringer, Mr. DeBlasio, and five City Council members led by East Harlem's Melissa Mark-Viverito  joined the ASPCA and New Yorkers for Clean, Livable, and Safe Streets (NYCLASS) in supporting Intro. 86A, a City Council bill that increases restrictions on when and in what conditions horses are allowed to work, as well as mandating additional medical checks and necropsies. Intro. 86A is the third recent piece of legislation introduced to curb the horse-and-carriage industry, following bills to ban horse-drawn carriages co-sponsored by Queens  state senator Tony Avella  and Upper West Assemblywoman Linda Rosenthal set to be heard in January.
"Many major cities across the world have already banned horse carriages," Councilwoman Mark-Viverito said. "We should not be the last to do so as well – we should be at the forefront of the changes in this industry."
Lawmakers and activists say a change is necessary to prevent alleged animal cruelty pervading the horse-and-carriage industry. In recent weeks, one horse collapsed outside the Mandarin Oriental hotel on 60th and Broadway; another panicked in traffic and crashed its carriage; and a third dropped dead while pulling a carriage down 54th Street.
Mayor Michael Bloomberg has stuck by the horse-and-carriage industry, expressing incomprehension as to why "anybody wants to destroy something that is part of New York's heritage and that tourists love."
Necropsy results showed the dead horse, a white 15-year-old named Charlie, to have a stomach ulcer and a cracked tooth. Though the ASPCA issued preliminary findings that the horse was "not a healthy horse and was likely suffering from pain," its head equine veterinarian Pamela Corey later disputed the findings and was subsequently suspended without pay.
"This is the tip of the iceberg," Basil Northam, a carriage driver protesting the bill, said. "The ASPCA is a corrupt organization. Where else in the country do you have an organization that simultaneously polices you and puts you out of business?"
Ms. Mark-Viverito's legislation intends to do that by gradually replacing horse-drawn carriages with "21st Century Horseless Carriages" to be operated by drivers who stand to lose their horses. NYCLASS has been developing these fin-de-siècle-styled electric cars, slated to cost $175,000 each, for the last four years. The ASPCA-funded group, which intends to cover all production costs from fundraising and donations, recently unveiled a 1/10th-scale model and hopes to finish a prototype in 2012.
Unlike the horses, currently limited to the Central Park area, the "horseless carriages" would be able to drive all around the city and accept payment by credit card. Once implemented, NYCLASS executive director Carly Knudson estimated they would bring the city $38 million a year in revenue, roughly double the $19 million she said the horse and carriage industry earns annually. Given the electric cars' early stage of development, neither Ms. Knudson, ASPCA president Ed Sayres, or Mr. Stringer have considered contingency plans should the plan experience delays or costs overrun.
The dozen or so drivers who came to protest the press conference sneered at the prospect of trading their horses for cars.
"God made the horse to work for the human, because they are not wild things," Antonio Montana, a 26-year industry veteran, said. "We are the last cowboys left in New York City. People are jealous of us because we are the real thing. Each ball that we have underneath is big like a horse."
One prominent supporter of the bill suggested time may be up for the drivers. "The horses droppin' dead on the street – a mistake has been made," Jimmy McMillan – last seen running for governor for the Rent is Too Damn High Party – said. "Put them in the archives in history. Show the people what we used to have. It's time for a change.
"Look behind you," Mr.  McMillan added, indicating the Brooklyn Bridge. "Can you imagine the Jetson car coming across the bridge with no tires? That's gonna happen! Change is coming!"