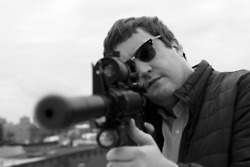 Yesterday the world learned that Q.R. Markham (the pen name of Williamsburg bookseller Quentin Rowan) had copied a good chunk of his novel, Assassins of Secrets. Edward Champion started going through the book identifying plagiarized passages. Soon, in a feat of crowd-sourcing, others joined Mr. Champion to reveal that not only did Mr. Rowan plagiarize his novel but also pretty much everything he has ever published.
In a short story he published in Paris Review, Mr. Markham lifted from Graham Greene's Our Man in Havana. A story published in BOMB in 2003 took from Nicholas Mosley's Accident. Even a recent promotional column for Huffington Post, "9 Ways That Spy Novels Made Me a Better Bookseller," lifted a few sentences, from Geoffrey O'Brien's Dream Time.
All of this controversy has not, however, hurt sales.