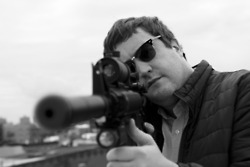 Q.R. Markham has responded to the scandal over his novel Assassin of Secrets, which Little, Brown recalled for plagiarism last week, in the comments section of a fellow thriller writer's blog. Jeremy Duns, author of Song of Treason, had publicly praised Mr. Markham's book before the revelations of its origins emerged. On his blog, The Debrief, Mr. Duns now debriefs Mr. Markham (whose real name is Quentin Rowan) on the extent of his actions.
Mr. Rowan/Markham traces the origins of his insecurity to the pressure he felt after he was published in Best American Poetry 1996:
When I was 19 a poem I wrote in high school was chosen for The Best American Poetry 1996. Up until that time I was an indifferent writer, a dabbler really, at the best of times. I was in college and like everyone trying to figure out what I wanted to do with myself. (Mostly I just wanted to play Rock music.) I took this anthology business as a sign that I was meant to be a famous writer. However, unlike any normal person who works at something a long time and eventually gets good, I decided I had to be good then and there. Because I was already supposed to be the Best. I didn't really plagiarize poetry, it was when I switched to fiction (God knows why) at the age of twenty that I began to distrust my own voice and began swiping other people's words or phrases because I thought they sounded better or more clever than my own.
He also recounts the extent of his plagiarism:
No poetry. The one line from Graham Greene in Bethune Street (Paris Review). Sections of an earlier story in the Paris Review from an old sea travelogue, Amy Clampitt,and Jean Baudrillard. A few lines from Nicholas Mosley's beautiful book "Accident" in Intelligence (Bomb). Assassin of Secrets from several different sources already noted. Parts of our interview for Hodder from Geoffrey O'Brien. Parts of my Huffington Post piece from Geoffrey O'Brien (a fantastic essay called "Spies" in his amazing book "Dream Time.") And then a segment of Harper's "The World of the Thriller" for the piece on "Riddle of the Sands." I believe that is all.
Go read the rest.