The owners of 10 East 53rd Street have tapped CB Richard Ellis' "Queen of the Skyscrapers" to find a buyer for the "hidden gem" of a midtown office building, which already counts HarperCollins Publishers as a tenant.
Owner New Millenium Estates will rely on Darcy Stacom, a vice chairman at CBRE, to sell the building.
Ms. Stacom thinks she can find a new owner who will transform the 37-story, 388,000-square-foot asset into "the jewel box it can be."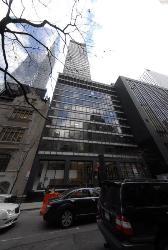 "We did get a flood of registration and a lot of phone calls saying 'I've been trying to buy that building for the last 16 years!'" Ms. Stacom told The Commercial Observer. "I knew it would be like this because I have personally been fascinated by this building for a long time."
Book publishers HarperCollins, an original tenant in the building, currently occupy more than 200,000 square feet in the building, or roughly 60 percent of the property's occupancy.  The current lease does not expire until 2014, said Ms. Stacom.
10 East 53rd Street's new owners have a lot of potential options for the building, which was built in 1972 and is located just off of Fifth Avenue. It can be redeveloped like 1330 Avenue of the Americas.
Or, more ambitiously, the new owners can renew HarperCollins' lease for a short term, have it timed to when News Corp's – HarperCollins' owner-lease at 1211 Avenue of the Americas expires, and then re-do the asset as upscale hotel, said Ms. Stacom.
"It's a perfect, perfect floor plan," said Ms. Stacom.  "It doesn't only have one outcome."
Ms. Stacom, who was memorably dubbed "Queen of the Skyscrapers" by the Wall Street Journal in 1997, said she used her old nickname as her halloween dress when she attended Bette Midler's Hulaween Party dressed as a skyscraper.
"Of course my hair was about a foot high and I had a crown on top of it," said Ms. Stacom. "It was enough to get a laugh out of Bette Midler, she said.
William Shanahan, also a vice chairman at CBRE, and the CBRE Investment Properties Team will also be working on the building's sale.–Daniel Edward Rosen