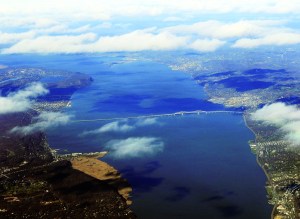 New York has always had a strong tradition of public works, one that long predates Moses. The Erie Canal, the New York Street Grid, all the parks of Olmstead and Vaux, the subways, the bridges, the tunnels. Party lines, then, did not matter, and in fact some of our greatest builders were Republicans: Rockefeller, Pataki, Bloomberg. That is what makes the current gubernatorial administrations so vexing.
It may be too early to judge New York Gov. Andrew Cuomo's public works legacy, of course, but the past 10 months do tell a story.
Governor Cuomo was swept into office with a mandate, the kind President Obama had, the kind that tends to lead to visionary thinking. And indeed, the governor has achieved much, in terms of property tax reform, an on-time budget, and his marquee victory, marriage equality. But all of these issues have been addressed in an environment of austerity. It is something the Governor Cuomo has preached from the start.
For much of that time, the administration kept the two master builders, former MTA head Jay Walder and former Port Authority head Chris Ward, in place, if at arm's length. Infrastructure issues, most general investments, were barely mentioned. Only last week did the administration begin accepting applications for a Race-to-the-Top-style economic competition. The priority was fixing the budget before expanding it again, if ever.
However, in the past month, all of that has changed. Joe Lhota, a Giuliani budget boss, was placed atop the M.T.A., and Pat Foye, Eliot Spitzer's downstate economics czar, was named his counterpart at the Port Authority. Both come from the state's conservative firmament, though their loyalties are to efficient bureaucracies above all else. They are numbers guys. Even critics speak highly of them, and this is not to doubt their capabilities or the possibility of success, but the question remains exactly what sort of transportation system they will shepherd, one of expansion and vision or cuts and moderation.
"I think it's a far greater priority to make sure those projects are tightly controlled, on time and on budget, and that the rest of the system is made more efficient and cost-friendly," a former Giuliani aide who worked closely with Mr. Lhota told The Observer following his appointment. Consider his stiffest competition for the job, Neil Peterson, a competitive dancer and serial entrepreneur who started a car-sharing company later purchased by ZipCar. He also ran three transit agencies out West.
This is not a question of the capabilities or capacity of the people appointed by Governor Cuomo. It is a question of vision, of operating principals, the bean counters versus the visionaries.
Robert Yaro, president of the Regional Plan Association—its predecessor organization thought up the W.P.A.—said he thinks Mr. Lhota and especially Mr. Foye will endeavor to reshape the region. The old projects will finally be finished, but what about the ones coming after? "There are some big projects moving ahead," Mr. Yaro said. "Does this mean we shouldn't be thinking about the next generation of projects? What about high-speed rail? What about trans-Hudson mobility?"
Consider the Tappen Zee Bridge—just do not drive across it. The span is 56 years old, but for almost a decade it has been one of the states worst, in terms of structural safety. It handles 140,000 drivers a day, almost five times the amount for which it was originally designed. (This is at the heart of the nation's infrastructure challenge—more users on older spans with less money to pay for them.)
If Andrew Cuomo had been indifferent to infrastructure, this is one major exception, and arguably the best indication of his approach. For the past nine years, the fate of the aging Hudson River viaduct has been debated. There were over 300 public meetings. Even before he took office, Governor-elect Cuomo came and visited the bridge, promising to come up with a solution before it collapsed. On Nov. 10, the administration announced it had reached a deal with the federal government to rebuild the bridge, even going so far as to expedite the onerous environmental reviews so construction can begin sooner.
The new bridge will cost $5.2 billion in total. But it will be lacking in a rail connector or even a pedestrian walkway, as had long been lobbied for, a decision that cuts the cost of the project in half but limits its capacity.
"I'm the cheapest guy around in government," Westchester County Executive Robert Astorino recently told WNYC. "We're cutting costs left and right. But if you're going to spend money, spend it efficiently. And right now you're going to replace this outdated bridge with another outdated bridge the day you cut the ribbon."
The Cuomo administration argues that it is building a bridge capable of adding the popular features in the future, when there is money available, while keeping the structure from falling down now. His approach is as valid as Moses', but it lacks the desire to tackle the whole problem, not just the 20th Century piece of it. The entire reason advocates wanted mass transit on the bridge was to reduce the number of cars already clogging it.
There is no question the Tappen Zee needs to be fixed, but there remains the issue of what should replace it—not to mention the other infrastructure in the state. The World Trade Center still has a far way to go, and Mr. Foye has promised to revive projects from his previous portfolio, such as Moynihan Station. What sort of compromises might be made there?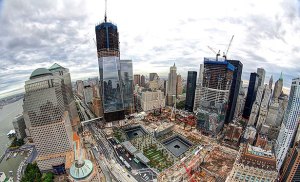 "Even if we weren't in this enormous recession, we wouldn't be seeing the gas tax go up or other measures because there's no trust in the federal government, and that they'll do something right with the money," said Brian Deery, senior director of the highway and transportation division at the American Association of General Contractors.
It is not fair to place all the blame on the current generation of politicians. The world today is obviously a very different one from the one in which Robert Moses and his cohort were building. The nation is highly developed, with little room for new projects. We are building on top of ourselves. Robert Moses was simply content to bulldoze those who got in his way. America cannot, and should not, pursue such means, and by and large it does not.
This is something people often forget when they point to China and wring their hands. Columbia real estate dean and former Manhattan City Planning director Vishaan Chakrabarti likes to compare the booming dragon to its neighbor, the cantankerous tiger. "India has a big vibrant democracy, and it is struggling to build a competitive infrastructure. China does not worry about such problems, it just builds," he said.
Robert Caro said this has been the case since before Moses, and it was part of the reason a singular planner was needed to produce the change in New York and beyond that he did. "For better or worse, the city would be a very different place if it were not for him," Mr. Caro said.
"It's a problem that democracy hasn't solved, and democracy still hasn't solved it," he added.
But there is a desparate need to do so—the nation's infrastructure deficit stands somewhere between $1 trillion and $3 trillion, depending on who is doing the estimating.
On the high end, that is one-fifth the annual GDP. It would cause massive expenditures to fix this problem, but it is also an opportunity for an even larger investment in the country. Most advocates point out that construction spending creates a 50 percent return on investment, not to mention the hidden costs of driving on potholed roads, suffering delays at airports, rebuilding bridges at 20-times the cost after they collapse.
Part of the challenge for politicians is that if they expend political capital on capital construction, they may not live to see it through. Many of these big projects now take decades, surpassing the typical four- to eight-year political cycles most elected officials are limited to in this country. George Pataki was a champion of the World Trade Center, Atlantic Yards, the Second Avenue Subway, Moynihan Station, a new Javits Convention Center. It has been five years since Mr. Pataki left his third term in office and still none are finished. Had Mayor Bloomberg not taken a third term, dozens of projects, from Willets Point to Governors Island to the transformation of Broadway might never have been realized.
Financing is also a big part of the challenges facing infrastructure investment. Projects are not simply more expensive because of the maturity of society or the complexity of environmental reviews or the cost of labor and materials, but also more nuanced factors like inflation, global competition—even government itself—which as it grew over the past century began to serve more constituencies.
"When Robert Moses was building in the 1930s and '40s, the social safety net was just beginning," said Richard Anderson, president of the New York Building Congress. "Now there is a lot more competition for spending."
There is also just less money to go around. A good portion of capital for infrastructure investments comes from the gas tax, which has not been raised since Bill Clinton's first year in office. Because the tax is set at an exact amount (currently 18.4 cents) and not on a proportional basis, as gas prices have risen, cars have become more efficient and people generally drive less, it has meant falling revenues. It is also a terribly unpalatable tax. Critics contend Christie killed ARC to pay for road repairs rather than raise his state's gas tax, the lowest in the nation.
"We have always built fabulously in this country, from the Erie Canal to the intercontinental railroad to the Interstate Highway System," construction attorney and author Barry Lapatner said. "But we have stopped investing, so we are no longer building. If we don't put this money into our roads and bridges now, it will cost us even more down the road."