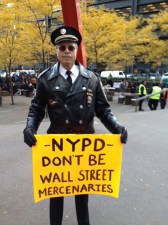 Retired Philadelphia police captain Ray Lewis has returned to Zuccotti Park after being arrested yesterday morning during protests for Occupy Wall Street. Mr. Lewis told us police released him from custody last night around 9:00 p.m. and said that he had been treated well.
"I, along with other protesters that I saw, were treated exemplary and professionally," he said.
We asked if fellow police officers had commented at all on his actions. "One said 'You've got the biggest balls,'" said Mr. Lewis. "Another said he had the utmost respect for what I'm doing." Other officers were more discreet but Mr. Lewis said he also got a few winks and nods.
Mr. Lewis plans to spend at least another week in New York City and told us he is lodged in "the cheapest hotel that I can find." He added that cheap hotels unfortunately come with problems.
"I'm going to have Thanksgiving at the square," he said.