Approximately 15 people associated with Occupy Wall Street were arrested around 1:00 p.m. this afternoon while protesting eight blocks away from Zuccotti Park, at the headquarters of Goldman Sachs.
One of those people happened to be the Reverend Billy Talen, an outspoken activist from The Church of Stop Shopping who spends a lot of time down at Occupy Wall Street. Another was The Nation's Chris Hedges, who departed from The New York Times after they reprimanded him for speaking out against the Iraq War. So two out of five people arrested were high-profile leftist advocates? What are the chances?
(Very good, actually.)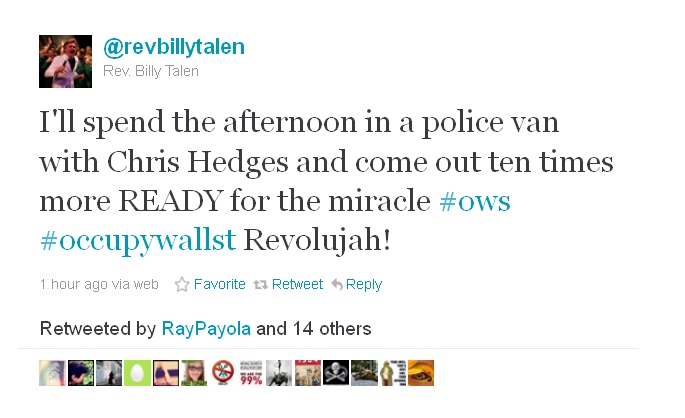 You see, The Nation Instute's senior fellow wasn't just covering the event: Mr. Hedges spoke to OWS earlier this morning in a mock-trial of Goldman Sachs (GS). Here was the schedule, as of 7:21 a.m.:
Outline of Today's Event:

09:45 Guests and Panel are seated
10:00 Introduction to A People's Hearing, Tony and Sandra Nurse, Occupy Wall Street
10:10 Opening Statement, Dr. Cornel West
10:20 Background of Goldman Sachs, Mr. Chris Hedges
10:20 Witness Testimonials
11:00 Proposal of Verdict
12:00 A Call to Action – March to Goldman Sachs

Liberty Square, NY — Today (Thursday, November 3rd) the People, the 99 percent, will hold A People's Hearing of Goldman Sachs in Liberty Square Park and march on Goldman Sachs! The people will bring to justice perhaps the single most egregious perpetrator of economic fraud and corruption in the United States. The Hearing will include testimonials from individuals directly affected by Goldman's fraudulent manipulation of financial markets, including victims of housing foreclosures, pension losses, public lay-offs and untenable student debt.

The proceedings will also include expert analysis from Ralph Nader, Cornel West and Chris Hedges. Following the 99-minute hearing the people will decide on a fair and deliverable verdict via our own process of consensus-based direct democracy – and we intend to deliver it ourselves – to the headquarters of Goldman Sachs at 200 West Street, eight blocks from Liberty Square. We will ask for something our judicial and legislative systems have so far failed to deliver – the return of billions of taxpayer dollars to the 99 percent and criminal sentences for those Goldman Sachs executives who carried out the fraud. The event will be broadcast live via the Occupy Wall Street Livestream, among other public media outlets.
Mr. Hedges appears in one photo to be resisting arrest with a non-violent sit-down, lock-arms maneuver. Unsurprisingly, The Nation already is linking to a video of Mr. Hedges arrest. As far as we know, none of the other 13 people arrested were famous.