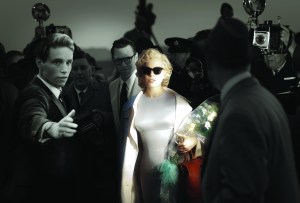 In the weekly grind of seeing, suffering through, and writing about what passes for movies today, perfection is a word I rarely have the occasion to use. A warm, wonderful and enchanting work of artistry such as My Week With Marilyn is the exception to that problem. What an extraordinary thrill to leave a movie exhilarated instead of drained, sated instead of empty, rejuvenated instead of depressed. It's a magical experience.
This is the moving, cinematically inspired true story of a young man named Colin Clark who, in 1956, went to London to apply for a job as a production assistant on the widely publicized, highly anticipated movie version of Terence Rattigan's celebrated play The Sleeping Prince, to be called The Prince and the Showgirl, starring and directed by Laurence Olivier and co-starring the most famous and desirable woman in the world, the one and only Marilyn Monroe. Determined and persistent, Colin wouldn't take no for an answer, and eventually graduated to an exalted go-for position as third assistant director, which included serving tea, soothing jangled nerves, acting as a bodyguard to the Hollywood goddess on her first visit to England, and generally playing the role of a peacekeeper that would tax the combined talents of the United Nations General Assembly. It was a dream come true for a confused, starry-eyed, 23-year-old underachiever, newly graduated from Oxford, whose wealthy, prominent parents considered his job on a soundstage at Pinewood nothing more than slumming. But he got a keyhole closeup of filmmaking at its most glamorous and stressful, and as the long and strenuous film dragged on, threatening to never end, he took copious notes and logged every detail in his diaries, which were finally published in the form of a 1995 memoir called The Prince, the Showgirl, and Me and expanded into a second book called My Week With Marilyn. Totally mesmerizing. This film might not appeal to anyone who has never heard of The Prince and the Showgirl or to those too young to understand the supercolossal charisma and appeal of the tragic Marilyn herself, but for legions of movie buffs like me who grew up on this stuff, My Week With Marilyn opens up a world of wide-eyed wonder while it sweeps away the glitter and the fairy dust to reveal the pain, frustration and sweat behind the scenes. By the time it ends, you feel like you were there, and thanks to the incandescent performance by Michelle Williams as Marilyn, I promise you'll get to know the conflicted woman behind the diamonds and the sunglasses and the glossy 8×10 fan magazine photos a little bit better than you ever will from the continuing parade of biographies that keep writers fascinated by a legend imitated by many Hollywood wanna-bes through the years but equaled by none.
Eddie Redmayne, the versatile, charismatic and highly praised actor who won a Tony award for the excellent play Red, is a sweet and sexy combination of open-hearted youth and maturing hormones as a boy taking his first tenuous steps into manhood. Some members of the British press have done their best to contest the accuracy of Mr. Clark's books, labeling him a parasite and a phony, accusing him of embellishing the facts, and claiming that as a third assistant to director-star Laurence Olivier on The Prince and the Showgirl he never got any closer to Marilyn than fetching coffee. Who cares? His memories, no matter how hyperbolic, make for first-rate filmmaking and the script by Adrian Hodges distills every poignant, startling, rapturous and heart-breaking highlight of importance from his two best-selling autobiographical memoirs. According to him, Marilyn took a fancy to a sympathetic boy with no agenda who adored her unconditionally, mainly because he was protective, unselfish and a reminder of her own lost innocence. Also, she was an outsider in a strange country who needed a friend. At first, it was difficult to gain her trust. One by one, her entourage arrives—including photographer and former lover Milton Greene (Dominic Cooper), third husband Arthur Miller (Dougray Scott) and domineering Actors Studio coach Paula Strasberg (Zoë Wanamaker), a gargoyle who feeds on the star's insurmountable insecurities and holds up the production on a daily basis, exerting control in all the wrong places, butting heads with everyone on the production while she gives Marilyn line readings. Kenneth Branagh is the distinguished Laurence Olivier, whose patience soon plummets into rage and near-madness ("Christ, what have I got myself into?") as Marilyn keeps everyone waiting for hours on end, including one of England's most revered character actresses, Dame Sybil Thorndike (Judi Dench in an imperial but luminous performance). Among the supporting players, Harry Potter's Emma Watson is a wardrobe assistant with her own crush on Colin but no competition for Miss Monroe; Julia Ormond is a beautifully realized Vivien Leigh, who excelled in Marilyn's role onstage but was too old for the screen; and Toby Jones (the one who should have won an Oscar for playing Truman Capote in Infamous, the second and better of the two films about the writing of In Cold Blood, instead of Philip Seymour Hoffman) is Marilyn's press agent, Arthur Jacobs. It just doesn't get any better than that.