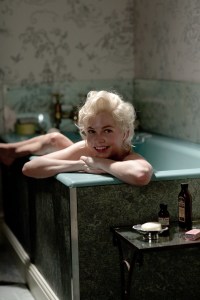 My Week With Marilyn is pure perfection, all right, and even more. Simon Curtis, a seasoned London stage director making his feature-film debut, does a masterful job of handling the most minute moments with delicacy and candor. Like eyes growing accustomed to the dark, it takes a while to adjust to Ms. Williams. I've seen drag queens who look more like the real Marilyn. Her eyes are too big, the contours of her face lack the jaw line that stopped traffic, and where are the splendiferous curves when she shakes her booty singing "Heat Wave" and "That Old Black Magic" in film clips Colin watches hypnotized, in the darkness of a movie theater? Ms. Williams does her own singing and dancing and she's letter perfect. Who knew? And then everything about the legendary sex goddess comes alive too—the breathless voice, the undulating poitrine, the tousled mop of bottle-blonde hair, the insecure body language that translated into control and power—as Ms. Williams grows into the role like new skin. The illusion grows on you, like a lichen. Scene by scene, she melts into the picture. By the end, she is no longer an imposter; she's the real deal, inhabiting Marilyn's body, mind, heart and soul.
As production on the ill-fated Prince and the Showgirl dragged on, the frightened American star grew more dependent on the English boy's sweetness and sympathetic compassion (Mr. Redmayne's charm and awkward sex appeal don't hurt either). After she discovers Arthur Miller's cruel notes on her neuroses and vulnerability that he later turned into The Misfits (a film she hated) and After the Fall (a play that would have killed her) and narrowly survives a suicide attempt, she needs a friend even more. Lonely and desperate to escape, to flee the hangers-on, the grinding pressures of the film, the press that followed her everywhere and the sycophants who falsely praised her even when she flubbed every line of dialogue, she threw caution to the wind and accepted his invitation to take a week off without tension and terror. "You should get out more—you should see the sights," he says naïvely. "I am the sights," she sighs wearily. Nevertheless, she disappears from the set without permission and tours the beauty of the English countryside. From Windsor Castle, where Colin's godfather (Derek Jacobi) gave Marilyn a private tour, to skinny-dipping in a pastoral pond, a platonic relationship took roots. Discovering a freedom of self-expression she never knew, Marilyn's self-confidence grew. Unfortunately, like countless others who fell under her spell, Colin mistook her childlike sincerity and sex appeal for genuine affection, and made the mistake of falling in love. She got some of her lost youth back, but like everything else in her tormented life, the euphoria was temporary. Miraculously, despite the angst, The Prince and the Showgirl finally wrapped, leaving the boy a sadder but wiser man. Her parting words to him were "Thanks for being on my side."
I truly love this film, and Ms. Williams's triumph in it. There was only one Marilyn Monroe and nobody will ever duplicate her unique gifts, but this brave, hard-working actress shows the many contrasting moods of a complex woman with inexhaustible craft. Sleeping with photos next to the bed of her mother, before she was taken away to an asylum, and Abraham Lincoln, whom she pretended was her father, she touches your heart until it cracks. "Everyone looks at me and they see Marilyn Monroe," confides the woman who used to be a penniless sweater girl named Norma Jean Dougherty. "Then when they find out I'm not her, they run." I was so focused that the film gave me neck pain, but that's a good thing. I usually get a headache for all the wrong reasons and none of the right ones. Something moved me deeply watching Ms. Williams as the tragic Marilyn, illuminating the girlish joy, erotic glamour and self-destructive suffering of a public icon who was privately a bottomless pit of need. Whatever else you think of My Week With Marilyn, make no mistake about it—you know you have been to the movies.
rreed@observer.com
MY WEEK WITH MARILYN
Running Time 99 minutes
Written by Adrian Hodges
Directed by Simon Curtis
Starring Michelle Williams, Eddie Redmayne and Kenneth Branagh
4/4