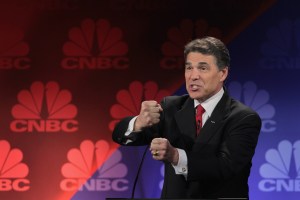 Texas Governor Rick Perry's campaign sent an email to supporters shortly before three this morning attempting to spin his "oops" moment in last night's CNBC Republican Presidential Debate when the Texas Governor said he wanted to eliminate three government agencies and was only able to name two. "We've all had human moments. … Just goes to show there are too damn many federal agencies," the email said.
"And I will tell you it's three agencies of government when I get there that are gone," Governor Perry said. "Commerce, education and the, what's the third one there let's see," the Governor trailed off.
Debate moderator John Harwood pressed Governor Perry on the issue, but he was still unable to name a third government agency.
"The third agency of government I would do away with–the education, the commerce and, let's see," Governor Perry continued before giving up. "The third one, I can't. Oops,"
Governor Perry already had a streak of poor debate showings heading into last night's event. His fumble immediately dominated debate headlines and left observers wondering if his White House bid is toast. His campaign dismissed the media's focus on his gaffe in the email, which was signed by "Team Perry." They also used the blunder as an excuse to ask for money.
"While the media froths over this all too human moment, we thought we would take this opportunity to ask your help in doing something much more constructive: write us to let us know what federal agency you would most like to forget. … And, if you could, throw in a $5 contribution for every agency you would like to forget," the email said.
A onetime frontrunner, Governor Perry immediately began slipping in the polls once the debate began. He took the stage last night trailing Mitt Romney, Herman Cain and Newt Gingrich.
Read the Perry campaign's email about his "oops" moment below:
"Friend & Supporter,
We've all had human moments. President Obama is still trying to find all 57 states. Ronald Reagan got lost somewhere on the Pacific Highway in an answer to a debate question. Gerald Ford ate a tamale without removing the husk. And tonight Rick Perry forgot the third agency he wants to eliminate. Just goes to show there are too damn many federal agencies.
The governor said it best afterwards: "I'm glad I had my boots on, because I sure stepped in it tonight."

While the media froths over this all too human moment, we thought we would take this opportunity to ask your help in doing something much more constructive: write us to let us know what federal agency you would most like to forget.

Is it the EPA and its job-killing zealots? The NLRB and its czar-like dictates? The edu-crats at the Department of Education who aim to control your local curriculum?

Send your answer to forgetmenot@rickperry.org, and if you are on twitter join us in using a new twitter hashtag: #forgetmenot. And, if you could, throw in a $5 contribution for every agency you would like to forget. We hope you have a long list. And we promise we will write down every last idea. So we don't forget.

Still standing in our Boots,
Team Perry"