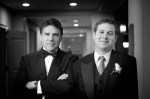 Texas Governor Rick Perry's 28-year-old son, Griffin, is not pleased with how the media has treated his father following the Republican Presidential candidate's widely publicized gaffe at last night's debate. The younger Perry scolded the press via Twitter by asking them to remember that the Bible says, "let he who is without sin cast the first stone."

Governor Perry has taken quite a bit of heat for a moment during the debate when he vowed to get rid of three government agencies if he was elected, but was unable to remember which agencies he'd put on the chopping block.
"The third agency of government I would do away with–the education, the commerce and, let's see, the third one. I can't. Oops," Governor Perry said.
Griffin Perry's Tweet, which was addressed to the "MSM" (shorthand for mainstream media) cautioned reporters to remember the Gospel of John before criticizing his father for being unable to recall the Department of Energy.
"Dear #MSM please read John 8:7 before attacking dad about forgetting something. People have forgotten much more important things than DOE," Mr. Perry wrote.
Mr. Perry left his job at Deutsche Bank and began volunteering for his father's campaign a little over a month ago.
The Perry family seems to read the Bible rather selectively. Governor Perry had no problems casting stones at Mitt Romney during previous debates and he certainly had no problem casting proverbial stones at the 234 death row inmates executed during his tenure as Texas Governor.