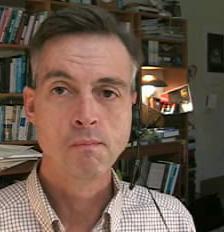 New York Times bestselling author and Pulitzer prize nominee Robert Wright is The Atlantic's latest digital hire. No, not The Atlantic Wire, just TheAtlantic.com. Mr. Wright has been penning for The Atlantic for 20 years, but has limited his editorial duties to The New Republic, The Sciences, and Wilson Quarterly.

According to the press release sent today, Mr. Wright's new position at The Atlantic "will cover issues related to politics, foreign policy, science, religion, and philosophy, among other subjects. He will also supplement his writing with video conversations, a format he popularized on Bloggingheads.tv."
So why doesn't anyone want to be his Twitter buddy?
Despite having one of the most prolific voices in technology and social media, and being what Atlantic editor Bob Cohn refers to in the press release as "a digital pioneer," Robert Wright's Twitter account hasn't been updated since March. (This was the Twitter handle that was referred to in the announcement as belonging to Mr. Wright and seems to be legit.)
Mr. Wright might not be much of a tweeter (he's too busy penning for every publication in existence), but a little bit of social media goes along way these days. Let's all friend Mr. Wright, and maybe we can start getting his genius in 140-characters instead of having to read entire articles in The Atlantic.