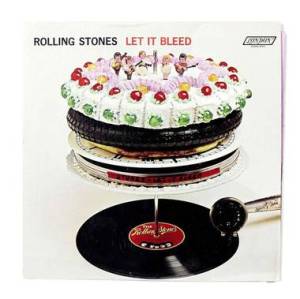 We all need some art we can bid on. And if you want it, baby, you can bid on…the original artwork for the Rolling Stones album Let it Bleed!
The Independent reports that Bonhams will be auctioning off the image from the 1969 album's record sleeve for an estimated price of £30,000-£40,000 (about $47,000-$62,600). Keith Richards commissioned his friend, Robert Brownjohn, to design the cover. It features what always looked to us like a fairly inedible cake with figurines of the band resting atop it. The cake was created by Delia Smith, an English cook and television personality.
Ms. Smith told the paper: "They wanted it to be very over-the-top and as gaudy as I could make it."
We tell you art, reader. It's just a bid away.