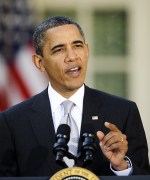 The Retail, Wholesale and Department Store Union announced today that they were endorsing President Barack Obama for re-election.
In a statement, RWDSU head Stuart Appelbaum, who has made his name over the past several years as one of the city's most ferocious critics of Mayor Michael Bloomberg, had high praise for the president, describing as a champion of the working class.
President Obama has done more for working people than any President in recent memory. When you examine his biggest victories—economic stimulus, healthcare reform, auto industry recovery, financial reform, pay equity reform, middle class tax relief, restoration of collective bargaining rights—it is clear that he has delivered on his central promises of hope and change. His presidency has been transformative under the most difficult of circumstances. He has been a stalwart defender of working men and women during a time of obscene obstructionism in Congress. Yet his record of progressive accomplishments has been woefully unacknowledged. He deserves more credit and gratitude.

The stakes in the 2012 Presidential election could not be higher. Millions of Americans are still reeling from the Great Recession. From the beginning, President Obama has strengthened government and advanced a bold set of policies that prioritize the needs of workers and the unemployed. And he has succeeded despite reactionary forces trying to thwart him at every turn.

Simply put, President Obama has been an underappreciated champion of working people. Over the next year, we plan to campaign vigorously for him throughout the country.
Earlier this week, SEIU endorsed Mr. Obama for president. Both unions are gearing up for a massive mobilization for the president in the face of what is expected to be an onslaught of soft money from the Republicans.
President Obama has come under fire from some liberals for ignoring the needs of labor, especially over his waffling over the Employee Free Choice Act and his embrace of some of the right's rhetoric over teacher's unions.
RWDSU represents 100,000 U.S. and Canadian workers in retail and food processing. The RWDSU Executive Board unanimously voted for the endorsement.
Jim Messina, President Obama's 2012 campaign manager, talked up the president's record.
"RWDSU and the President both know that in order to create true middle class security we must lay the foundation for a fairer economy in which everyone plays by the same rules, and hard work and responsibility pay," he said.
"Upon taking office, President Obama made the issue of workers' rights – including safe, secure workplaces and access to affordable health care – a top priority. RWDSU has been at the forefront of this fight, and we are proud to have its endorsement," said Messina.
Although the leadership of the RWDSU is headquartered in the city, they have chapters all over the country, and are preparing an on-the-ground effort in Midwestern and Southern swing states.