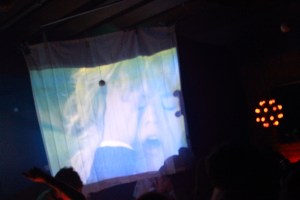 In theory throwing a birthday party for an indifferent fading celebrity seems a tad sad. 'MR/50' however, a party held at 171 East Broadway last Friday to celebrate Meg Ryan reaching her half century, proved otherwise. Indeed, the line swelled outside, a testament to 300 plus people who responded to the Facebook invite. Meaning that the original venue 'Tropical' had to be changed less than a week before the party as it was too small.
"We got this place [171 E. Broadway] just two days before the party" explained one of the organizers Jonas Åhlén, who was speaking from behind a projector screen displaying the notorious When Harry Met Sally fake orgasm scene on loop, in beat with the music.
Åhlén brainstormed the idea for the party with his colleagues Johan Gerdin, Rich Greco and TJ Ryan who all work at the advertising agency Droga5. "It's amazing how you start the week with four people, then ask 'hey, what are you doing this Friday?' then suddenly it's 300" said TJ Ryan.
Lighting designer Stuart Alexander – who recently won the commission to work on the new Titan museum in Belfast – chipped in to help with the art direction and projections, he disclosed how he "couldn't remember the last thing she [Meg Ryan] was in!" when first asked to help. He was over from London and sans equipment, which turned out not to be much of a problem "It's easy," he said, "I'm just using a lot of open source equipment and open source software".
"She's the American sweetheart, at least when I was growing up" TJ Ryan said of his namesake, "Using her as the context for our night we tried to bring back those memories visually, we were hoping to catch her ear for a second, have a party and at the same time, a bit of a social experiment."
Mr. Åhlén and Rich Greco came up with the graphic content, Alexander was impressed, "We selected only the more perverse parts of her movies, it's very slick and turns out to be a great visual aesthetic."
Adorning the walls of the entranceway were postcard sized stills from Ms. Ryans various films, all colored in opaque blue, with practical messages emblazoned on top like "REST ROOMS", "NOT RESPONSIBLE FOR LOST ITEMS" etc. and one wall a complete collage of repeated extreme close ups, It all only added to the paradoxical nature of the party.
Even with the art direction, it must be said that the parties theme was rather loose, and there was more than an air of self-referential humor and tongues being firmly kept in cheeks. Many in attendance were more concerned with getting to and from the crowded bar.
Even so The Observer was in full on over-analyzing mode; "do you think it is systematic of American culture that you're celebrating a random celebrities birthday?" "I don't think it's that serious" was the curt but appropriate response from reveler Sasha Awn.
Still, there were those that seen significant in the subject, Brooklynites Cynthia Rice and Giles Hanson had no plans to come into the City last weekend, until that is, they heard about MR/50. "I was told there was a Meg Ryan party going on" said Cynthia, "And I knew I wanted to celebrate it." She reminisced "When in Top Gun and she says to Goose 'take me to bed or lose me forever', its amazing".
As the night dwindled to it's dying emblers – with Ms. Ryan still inconspicuous by her absence – The Observer spoke to DJ for the first half of the night, Erik Helin, whose pre-planned set got scrapped early on for a more 80's dance, flying-from-the-seat-of-the-pants approached. His friend Thomas McNichol held the belief that Ms. Ryan would still show her face, he badgered Helin to "play her favorite songs", seemingly applying the logic of the pied piper, believing the dynamic tones of Kenny Loggins 'Danger Zone' would sweep her off her sofa in Soho and into the loving arms of those in the Lower East Side. For Mr. McNichol it was a case of: take her to Rutgers St. or lose her forever.
However, by the time we had left, there was still no sign of Ms. Ryan.