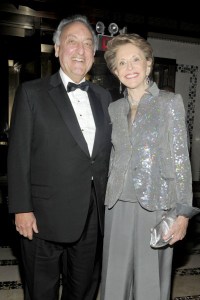 Oh to be a financier! The glory! The money! The custom apartment with park views!  But then, of course, there are the low points. When the public turns against a moneyman, it is practically impossible to bounce back… particularly in the day and age of #Occupy. These are all sentiments former Citigroup CEO Sandy Weill knows all too well.
Back in the boom days of '07, Mr. Weill and his wife Joan, bought a place at 15 Central Park West for $42.4 million, shattering existing real estate records at the time. But Mr. Weill's image was tarnished during the financial crisis. Named by Time as one of the 25 people to blame for the crash of 2008, Mr. Weill has kept a relatively low profile over the past couple years.
But he's back, and making yet another splash! Apparently trying to sway opinion in his favor, Mr. Weill very publicly announced that he plans to sell his 15CPW penthouse with an asking price of no less than $88 million. Here's the catch: Mr. Weill won't be pocketing the outrageous sum, but rather plans to donate it to charity, The Wall Street Journal reports. "The proceeds of what we get will go to what we can give away to try to help make the world a better place," Mr. Weill told The Journal. "We are downsizing a little bit," he added.
The good news is that it shouldn't be too hard to downsize from the lavish set up they have now.The 6,744-square-foot pad boasts two fireplaces, a 2,077-square-fo0t terrace and a custom built bedroom.
There is an unusual, oval-shaped master bedroom, according to the listing by Kyle Blackmon of Brown Harris Stevens. Mr. Weill said he had asked Mr. Stern to redesign what had been a rectangular bedroom so that both he and his wife could wake up in bed with an unobstructed view of the sun rising over Central Park in the morning.
Don't feel too bad for Mr. Weill though. He's not going to be slumming it any time soon. After selling off the giant penthouse, Mr. and Mrs. Weill will   retreat to another unit they own in the building on the lowly sixth floor.