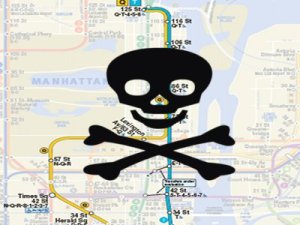 In addition to all the problems—construction noise, shaky buildings, shuttered stores—that the Second Avenue Subway is causing the city, one 14-block stretch of Second Avenue between East 87th and East 101st streets might now be costing an additional $2 million per block. In personal injury lawsuits.
And this is just phase one.
As The Post reported this morning, a whopping $27 million worth of suits have been levied against the MTA for damage caused to streets and sidewalks along upper Second Avenue that litigants claim are to blame for injuries that range from trip and falls to car accidents. The individual cases are, of course, unique in both their narrative and merit, but they are joined by the fact that the largest public works project in many years is still running up higher and higher potential costs as its completion date keep being pushed back later and later.
In fact, the project's first phase, which has incurred all of the recent lawsuits, was originally supposed to be completed in 2014, but is now scheduled to wrap up in 2016.
So, either New Yorkers better tread more carefully or the M.T.A. had better get a good attorney on retainer.
tmcenery@observer.com