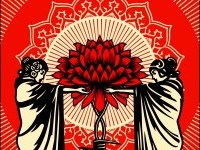 Today, New York City police evicted the Occupy Wall Street protesters from Zuccotti Park and made almost 150 arrests.
This morning, we spoke with artist Shepard Fairey, who was recently chosen by the Robert Rauschenberg Foundation as its first "Artist as Activist," for which Mr. Fairey created 100 signed prints of a new poster called "The Future is Unwritten," which is available through Artnet.com, starting at $1,250, to benefit Coalition for the Homeless. We asked Mr. Fairey, who spoke with us on the phone from the James Hotel, not far from the protests, how he felt about the eviction and arrests, given that last month he designed an invitation for an Occupy Wall Street party in Times Square, and that he himself has been arrested some 16 times while making his street art.
"I support the movement," he said. "It's distressing to me, and it's unfortunate [what's happened]. There are values that you always hear about the U.S. believing in–the right to organize peacefully and the First Amendment right to speak your mind. The people from Occupy Wall Street aren't rabble rousers. They think democracy has failed them and they are using rights that we theoretically have in this country, because they don't have the power that corporations do, with lobbyists and other kinds of tools. It's not a level playing field. The police and fire fighters–any city worker–is part of what the protesters are advocating for."
Mr. Fairey told us he is making images at the moment "that call out the villains. There is a big divide between the optimism of the 2008 election and where we are now. I'm working on an image that supports Occupy Wall Street, but pushes Obama and reminds the Occupy people that Obama is not an enemy but could be an advocate if not pushed in a way that alienates him. I have no choice but to be proactive. Outrage only goes so far."
In 2008, Mr. Fairey created the iconic "Hope" poster, in support of President Obama's election.
Given that the Rauschenberg Foundation has chosen him as its first "artist activist," we asked Mr. Fairey what it meant to him, as a socially engaged artist, for an artist to be an activist.
"I feel like I'm able to make images I think are strong in communicating an idea visually," he said. "it's an obligation for me to deal with the issues I care about, not just aesthetic concerns. I love making pictures, and visual problem-solving, but also real-world problem solving. Other people have other personal needs on why they make art. For me art is a vehicle to deal with my concerns."
Is art capable of changing people's minds, of creating social change?
"Art, and I don't just mean visual art, but music as well," Mr. Fairey elaborated, "are two art forms that can appeal in a visceral and intuitive way that might be able to push through someone's predisposition to reject an idea or present something [in a different way] than an editorial diatribe. That's a really powerful thing. People have said to me, 'You made me curious or excited about an image but led to me feeling I need to justify why I was so moved by it, which led to research, which led to a shift in my point of view.' I consider myself more of an artist than an activist. I have to make a strong picture first, but I hope that can open the door to the next step of people looking at issues. Sometimes it is topical, and sometimes it's about freedom and power of expression."
Christy MacLear, the director of the Robert Rauschenberg Foundation, explained that Mr. Fairey was chosen by her organization and Coalition for the Homeless because "he embodied values of the mission statement of the foundation: art can change the world. It is something Robert Rauschenberg said, and Shepard represents actively, that art can engage the public in a way that can make a difference."
She expects the sale of his posters to raise $200,000 for the homeless, including preventive programs to stem evictions. (Perhaps an appropriate element on a day like today.)
In the future, artists chosen by the Rauschenberg Foundation, for this annual initiative, will choose the charity they would like to benefit. We asked Ms. MacLear if the Foundation was concerned that an artist might pick a cause with which its board members disagree.
"One of Robert Rauschenberg's concepts was fearlessness," she said. "It's like art. You walk into the wild frontier."