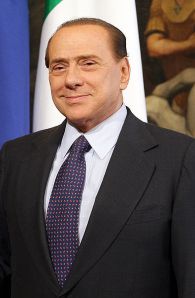 How did we miss this? While in power, the recently vanquished Italian prime minister Silvio Berlusconi spent $94,000 in government money to fit an "artificial penis" onto a statue of the Roman god Mars that was on loan to his private residence, according to a report in The Australian.
Meanwhile, the paper notes, Mr. Berlusconi was letting many of Italy's national treasures fall into decay. In the ancient city of Pompeii, for instance, the House of Gladiators recently collapsed, leading to widespread outcries in the nation. For more of this, The Australian has a nice, thorough look at the decline that took place under the politician's rule.
With austerity measures looming in Italy, increased funding for preservation is unlikely to materialize anytime soon, and so The Australian proposes that the nation "faces a choice between preserving its cultural heritage through corporate sponsorship and private money, or watching it fall to pieces."
That is quite a choice.