Earlier today, it was announced that Swedish construction giant Skanska had signed a 16,000-square-foot lease at 519 Eighth Avenue. Here's how The Commercial Observer broke the news on Nov. 2 through various backchannels.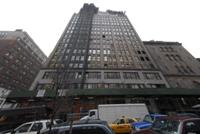 SKANSKA TAKES OFFICE SPACE AT END OF LINE
Nov. 2–Skanska Railworks Joint Venure, a U.S. subsidiary of Swedish builder Skanska AB, will lease 16,000 square feet at 519 Eighth Avenue, The Commercial Observer has learned. The mega-builder has spearheaded construction on the Second Avenue subway project, the 7 subway line extension and the World Trade Center site.
The construction company also has a large office in the Empire State Building, but when it won the bid for systems and furnishings of the 7 line extension last month, they began the hunt for nearby office space.
"[Skanska] likes to locate as close as possible to major projects they are working on, and they lease for as long as they think the life of the project is," said Barbara Raskob, of the Kaufman Organization, who represented the landlord in the deal with Steven Kaufman.
The lease is for five years, with a cancellation option after three. Asking rent was in the mid-$30s per square foot for the entire 14th floor.
This deal brings 519 Eighth Avenue to 100 percent occupancy.
The building will be and ideal, if rather temporary, home for the company—the lobby was renovated about four years ago and the landlord is considering adding a roof deck.
Ted Spiegel of Spiegel Real Estate represented the tenant in the transaction.–Guelda Voien