Most of the sights and sounds at this morning's event in Long Island City were pretty standard fare for a groundbreaking: guys in shirts and ties, wearing hard hats and holding novelty shovels, a massive back hoe parked in the back of a lot prepped for excavation.
A less ordinary sight however, was the young woman in a dark skirtsuit pacing the edges of the earthen lot, chanting quietly and gently tossing grains of vodka-soaked rice while development executives looked on appreciatively.
As bizarre as the sight may sound, it is almost surely a sign of things to come on the home front.
"Everyone can benefit from good energy," said Eric Benaim, President of Modern Spaces. His company has enlisted the services of "Certified Feng Shui Consultant" Laura Cerrano of Feng Shui Long Island to advise them on every facet of the design and construction of Vista Court, a 15-story residential building on Purves Street just south of Northern Boulevard.
But Modern Spaces' decision went beyond simple good vibrations. The firm, like so many other developers in the city, wanted to attract that most auspicious tenant-of-the-moment: the Chinese.
For Modern Spaces, the plan to attract those buyers is quite literally from the ground up. Aside from providing advice on how units should be designed, placement of windows and balconies, doing away with the fourth floor of the structure entirely ("that will be more of a re-naming," admitted Ms. Cerrano), one of Ms. Cerrano's contributions to the project was today's ceremony that prepared the lot for excavation.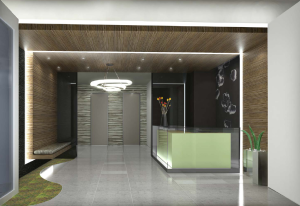 The ceremony included burying small red baggies filled with objects that represented the five elements, the burning of sage, and, finally, the rice ceremony which necessitated Ms. Cerrano to pour 99 drops of Smirnoff Vodka onto a bowl full of uncooked rice, before adding the mineral cinnabar and stirring the mixture with her middle finger 99 times. "I offered her Ketel One," joked Mr. Benaim who added that Ms. Cerrano was very specific about her brand of vodka.
After completing her prep, Ms. Cerrano educated the audience on how sprinkling the rice along the perimeter of the lot would feed the ghosts and spirits that inhabit the space and provide positive energy for its future tenants.
As The Observer watched Ms. Cerrano stroll carefully over the uneven, cement-cragged ground, we wondered what brokers in SoHo were doing at that moment to attract what's left of the European buyer's market. Maybe some ouzo would do the trick.
tmcenery@observer.com