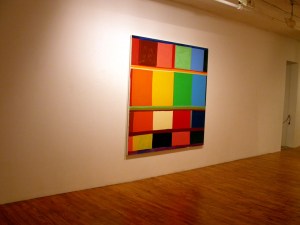 The painter Stanley Whitney will receive the first ever Robert De Niro Sr. Prize, representatives for the De Niro estate announced today. The $25,000 prize celebrates a mid-career American painter, and was founded last year by the artist's son, the actor Robert De Niro Jr.
"Stanley's work and the way he practices his craft both show what this prize is all about—honoring a person with great passion for and lifelong commitment to art," Mr. De Niro said in a release. "I am so proud to pay tribute to my father through this inaugural prize in his name, and to recognize and support an artist who has achieved so much throughout his career."
Mr. Whitney shows with Team Gallery and is best known for his abstract paintings of rich, colorful blocks. De Niro Sr. was a prolific and influential Abstract Expressionist of the New York School.