The midtown south overall (all classes) vacancy rate fell in this past October to 9.4 percent, its lowest since the 9.3 percent in December 2007, coincidentally the month when the last recession officially began. During the downturn, it climbed as high as 14.4 percent (in both November and December 2009).
Its vacancy rate is currently lower than that both in midtown (12.0 percent) and downtown (10.4 percent). What has really turned this submarket around a bit faster than either midtown or downtown is its appeal to a wide variety of tenants that have found themselves in expansion mode during the current malaise—in particular media, technology, education and ev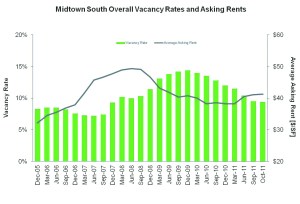 en fashion. As a matter of fact, it was a fashion tenant that signed one of the largest leases recently—J. Crew renewing and expanding for a total of 300,000 square feet at 770 Broadway. Another recent deal was Pearson, which is relocating from both midtown and the suburbs to 330 Hudson Street. And then there are a slew of smaller start-ups looking to be the next Google, considered the media/tech anchor in the neighborhood with its mega-location at 111 Eighth Avenue.
The allure of midtown south for these tenants is really four-fold. First is price point with asking rents, on average, well below midtown and competitive with downtown. Second is that many of the buildings in midtown south are older loft or warehouse style properties (53 percent of this market is considered Class B) and these properties tend to appeal to these particular types of tenants. Third is that midtown south is much more mixed-use than the other two major submarkets, with office, residential, retail and restaurants in a low-rise, villagelike, slightly funky setting (that sounds a bit dramatic but nevertheless it's true). Finally, and possibly most important to media/tech tenants, is the synergy created by clustering near companies working within the same creative fields (similar to the Silicon Valley effect). Expect this trend to continue, that is, if these companies can actually find space.