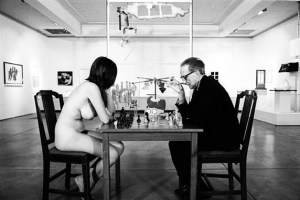 If you're around the Canal Street subway stop for some reason next week (Bahn Mi craving, court date, etc.) be sure to ogle Art in General at 79 Walker Street, where, beginning on Saturday, a daily strip poker game will take place, in full view of anyone passing by the front window.
According to DNA Info:
"At first it's kind of titillating — 'Oooh, it's strip poker'," said [artist Zefrey] Throwell, 35, a Brooklyn resident. "Then after you get over that, you start to wonder: What the hell are they doing?"
Mr. Throwell expects no trouble from the police since "it's legal to walk around your own home naked." Right.