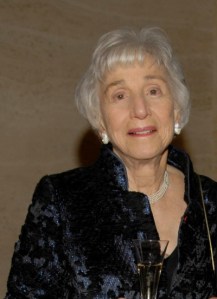 Like their newspaper's readership, it seems the Sulzberger family has a particular affinity for the Upper West Side. Arthur Ochs Sulzberger Jr. recently bought a place at the Dorilton for $3.9 million, and now his cousins have been involved in a nearby sale for more than twice that amount. Daniel and James Cohen, whose maternal grandfather was Arthur Hays Sulzberger, have sold an apartment at The San Remo, city records show.
The brothers, the sons of Judith Sulzberger, who passed away in February of this year, had received the two-bedroom, three-bath apartment in 2008 through a family trust under their mother's name. Although professionally she eschewed her family's business and became a doctor, Judith Sulzberger remained involved with the company as a director of the Times from 1974-2000, and, of course, a principal owner of the billion dollar organization until she died.
It seems that while she donned a lab coat and poured over microscopes  by day, in the evenings Sulzberger retired to a rather sumptuous roost. The home has a 467-square-foot  living room, a master suite with a dressing room, and a dining room which comes "replete with herringbone wood floors, high ceilings and meticulously preserved architectural details," according to a listing from Corcoran agents Robert Browne, Chris Kann and Gregory Sullivan.
They buyers of the property are Irving and Judith Shafran, a lawyer and a book editor, who previously lived in a full floor apartment at 778 Park.  The couple, who SEC filings show had invested with Bernie Madoff's firm, put their apartment on the market in December, 2009. The Shafrans doubtless breathed a huge sigh of relief when the residence, originally listed for $24 million, entered contract this past May. With the extra capital practically secured (the only hurdle being the co-op board's blessing of their prospective buyer), the Shafrans made their move. According to StreetEasy, they entered contract Sulzberger's former home in July.
While more modestly sized, the Sulzberger place does surpass the Shafran's old Park Avenue apartment in at least one measure: height. Located on the 25th floor of the building (their previous apartment was on the 18th), the couple's new digs boast views of the park, river and George Washington Bridge. And let's not forget the light! The home "is flooded with magnificent morning sunlight from the east and mesmerizing sunsets from the west through a total of 19 windows," according to the listing.
Daniel and James Cohen originally listed their mother's place for $12.5 million when it hit the market in April, bringing the price down to $11.5 million before the Shafrans snagged it for the $10.25 million.