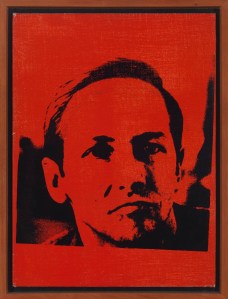 Last Thursday evening, Gagosian's Madison Avenue headquarters was packed with people for the opening of "The Private Collection of Robert Rauschenberg," which filled three floors of the gallery with work from the late artist's private collection.
Press materials had promised "special insight into Rauschenberg's broader inspirations as well as his friendships and affinities," which many of those in attendance no doubt had some thoughts on. Among those present were old friends and associates, like the legendary choreographer Trisha Brown, whose drawings are included in the show, as well as the indefatigable writer Glenn O'Brien.
Darryl Pottorf, an artist and longtime studio assistant for Rauschenberg, gave Gallerist a tour of the exhibition, which includes work by John Chamberlain, Henri Matisse, Brice Marden and a trove of others, sharing anecdotes as we passed works in the exhibition.
"This one right here," Mr. Pottorf said, gesturing to a drawing of the American flag by Rauschenberg's former lover, Jasper Johns. "I remember this was hanging in his bathroom."
Many of the works were gifts to Rauschenberg–a few were inscribed with the words "For Bob"–but there were also purchases and works he had acquired through exchanges. (Given his long career and his history of rich collaborations, one wonders how many artists have gifts of their own, signed "From Bob," in their collections.) Viewing the show, we began to discern a sophisticated and intricate portrait of the artist's personal interests and obsessions.
On entering the hall we were greeted by a bright red portrait of the artist by Andy Warhol–a comrade at Castelli Gallery for a number of years, now reunited with Gagosian. The just small, just larger than a sheet of paper, and simple, separated somewhat from the rest of the exhibition, and it acted as an intimate, handsome introduction to the man whose very personal pieces we were about to be privy to.
The sculptures, paintings, prints and installations, which are now owned by the Robert Rauschenberg Foundation (though some are for sale), served as testimonials to the artist's multifarious interests and friends–from Ruscha and Twombly to his former wife Susan Weil and Marcel Duchamp, represented by a Bottle Rack (1914), which hung in the stairwell between the fifth and sixth floors.
There was a sentimental air in the gallery, as people swapped anecdotes (often beginning with, "Do you remember when Bob…") about the artist's generosity and sense of humor.
This is the first time that many of these pieces have ever been publicly presented, so we were surprised when one highly sociable lady rushed out past us early in the evening, exclaiming the exhibition was "a show to come back to." We weren't going anywhere, though, as Mr. Pottorf had now moved on to an untitled Twombly drawing, in which the artist had quickly sketched a few penises. "It once hung in Bob's kitchen," he told us.