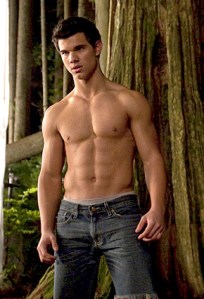 On Wednesday The Hollywood Reporter reported that Twilight teen heartthrob Taylor Lautner had optioned a New Yorker story to be made into a small-budget movie directed by Gus Van Sant.
After the critical and box office failure of his first post-Twilight job, Abduction, the combination of the New Yorker and Mr. Van Sant lent the 19-year-old an instant aura of taste and gravitas, causing a spike in the Mr. Lautner futures market.
As for which story he'd bought, we and other New Yorker readers scratched our heads. Our best guess was Julia Ioffe's profile of Andrey Ternovskiy, the young creator of Chat Roulette. A video chat site where the anonymity and eroticism and vastness of the Internet converge, as seen through the eyes of a teenage boy? So Van Sant.
But could Mr. Lautner pull off a Russian accent? And how much shirtless time would the role allow him? Perhaps it was the recent profile of his ex-girlfriend Taylor Swift that he'd wanted to interpret.
According to a source, our conjecturing was in vain. Apparently, the optioned article actually comes from New York magazine, not the New Yorker. (Ugh, Californians!)
He says Alex Morris' "Fight Like a Pretty Boy," published in February's fashion issue, is the story that caught Mr. Lautner's eye.
It's not hard to see what Mr. Lautner would see there. It describes an illegal Chinatown boxing club where "most of the fighters in the lineup are lovely enough to turn heads, and some of them have made money on it."  On Friday nights, hundreds of downtown types pony up $20 to see male models in the ring against real street fighters and boxers.
"They've come for the sheer violence—the wormhole back to a long-lost New York," Ms. Morris wrote. "But they've also come for the spectacle of beautiful boys stripping to the waist and submitting their features to a thorough pummeling," she writes.
Sounds like a winning pick for Mssrs. Van Sant and Lautner. We reached out to New York, the New Yorker, and Alex Morris for comment but have yet to hear back. The talent and literary agents at ICM recently opened a special shop for snapping up cinematic pieces from New York and the Atlantic but this piece pre-dates that arrangement. We'll keep you posted.