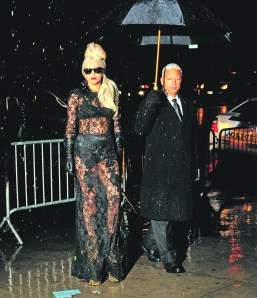 Do you hear those sleigh bells ring-a-ling too? Every year we think we're going crazy when the radio starts playing Christmas songs the moment the organic Whole Foods turkey has turned to Thanksgiving leftovers. (It's been especially unnerving this year, considering the temperature has us repacking our winter sweaters.) We're happy to get an early jump on the shopping—er—giving this year, as long it means that we can stuff our stockings with toys from Lady Gaga's workshop at Barneys. Only $95 for an Alexander McQueen shoe replica made out of chocolate? That's less than we paid at the Met to see the reel heel!
Another holiday treat has been the silence on Wall Street. Maybe everyone made peace on Thanksgiving … you know, just like the Pilgrims and Indians did before the former wiped out the indigenous culture with smallpox. (Zuccotti Lung, anyone?) Those annoying drum-a-drum-drum circles were quickly replaced by Miley Cyrus's YouTube remix of her song "Liberty Walk" to show her support of the protests. Listening to her high-frequency noises accompanied by images of marches and American flags was like taking a little
Salvia trip without leaving your executive suite.
If you prefer your screeching in a higher octave, please write in to Fox News and demand that pundit/non-token blond lady Megyn Kelly take us up on our offer: After describing the pepper spray used on UC Davis students as "a food product essentially," we invited her down to our offices for a mutual Mace-off. Think of it as a modern day pie-in-the-face gag, except with more eye irritation.
Those looking for a mob scene last week didn't have to travel to California—or Wall Street—to stand behind police barricades while shoved by strangers. You could just go to the annual Macy's Thanksgiving Day Parade. This year's giant Spider-Man float was either a tribute to the upcoming film, or an effigy to the Marvel gods after Turn Off the Dark made it a whole year without being shut down. Worker's comp: it's the gift that keeps on giving. Just like Powerball. Which at least this year, is more like a gag gift. Three Greenwich money managers just won $254 million in the lottery, proving once and for all that there is no God—or perhaps there is, and he's just sitting in his executive suite taking a little Salvia trip. Either way, we're just going to down some holiday spirits and enjoy ourselves.