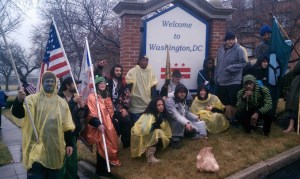 On November 9th, approximately 24 people left Zuccotti Park, took a ferry to New Jersey, and began to walk to our nation's capital. Today, around 40 people have arrived on foot in Washington D.C. as part of Occupy the Highway movement, one day ahead of schedule. With only two "rest" days included in their two-week marathon hike, the group is gearing up for a 2:30 conference on Capital Hill. (Originally it was supposed to be in protest of the Supercommittee…but the agenda has had to make some slight alterations.) We spoke to one of the event's organizers, 30-year-old New Orleans EMT Robby Diesu, about the trials of life on the road.
The New York Observer: So you've finally made it! How was your trip?
Robby Disesu: It's been interesting. It's been really amazing to take the Occupy culture–the horizontal leadership and all those things that are different from the predominant American culture–and bring it to places that weren't really sure what the movement was about. It's been really good to develop these inter-personal relationships with people we met on the road. That's the part of the movement that people don't really get: it's all about face-to-face interaction, letting people ask questions…it's been one of the nicer parts of the whole thing.
What was the route you took? Did you stay mostly on highways, or divert into smaller towns?
RD: We stayed mostly on Route 13 for the majority of the trip, then for the last stretch we took Route 1. On average, we were walking on four lane highways.
Now your march began in New York…
RD: Actually, we took a ferry to New Jersey City, and our first day was marching farther out into Jersey.
Were you marching every day, or would there be breaks to give people some time off?
RD: We had two rest days: we had a rest day in Philadelphia, and one in Baltimore.
Was your team in constant contact with Occupy Wall Street? Did you hear about the raids when they happened?
RD: We watched the raids happen on Livestream, so we saw it as it was going on. It was while we were in Philadelphia, the night after our rest day. It was a pretty harrowing evening. About six of us on the march left and went back to New York that night. And the rest of us kept on walking.
We can't help but think of that Stephen King story The Long Walk. You must have had really dedicated…or really in shape people to walk all day no matter what the conditions were.
RD: Ha! It's funny because the walk itself, physically, wasn't very difficult. There was definitely a certain amount of determination you had to have. I'm a medic, so my job was all about staying on top of things…doing a lot of work around people's feet for blisters, muscle pain, and all that stuff. But everyone just soldiered through it.
Did you have any trouble from the police when you were on the highway?
RD: No, we actually had a lot of police support. They were really, really helpful. They would work as escorts, blocking traffic for us. We did have some problems the first night…we were staying at someone's personal home, and before we arrived the police came and were asking questions about the nature of our trip. But for the most part, the law enforcement we came across were invested in us being safe as we walked along the road.
How much weight were you guys carrying? Was it like hiking, where you'd be carrying tents and food, or was it more of an overnight back-packing experience, where you'd find some place to stay every night?
RD: We definitely picked up food along the way. We stopped for lunch a couple days. We stopped in churches, homes…people were really good to us. For the last several days we've had a support car, where someone was driving and we'd put all our gear into it, and have it at our place of arrival at night.
Did you camp outside ever?
RD: There was only one night when we slept outside, and that was right around Trenton, New Jersey. We had some tents, and the city of Trenton provided some space for us.
How did you guys find homes to stay in?
RD: Well, the Occupiers knew we were coming. We also had a live Twitter feed that was being updated every day, so people would watch Twitter and respond "Oh, you're coming by here, we have a space available for you." Some nights there'd be multiple places to stay, so we'd have to stop and make a decision.
How many people did you start out with? End with?
RD: Well it fluctuated. We started out with 24. Some people would join up for a certain stretch, like to go from Philadelphia to Baltimore. Sometimes we'd have 18 people, sometimes we'd have 40. We have about 44 right now, though.
What was the general sentiment during the march? Would you find morale start to sag when the weather turned?
RD: With the horizontal decision-making process, there's always a little bit of contention over what the best plan of action is, because everyone has an equal say. But spirits stayed high, I'd say, for most of the trip. Days where it was rainy, or there was more ground to cover, you'd always arrive exhausted and a little bit down. But the situation never got too negative.
Was the route planned beforehand, or did you make it up as you went along?
RD: We had a skeleton of a route beforehand, and then we'd have to make deviations along the way to account for where we'd be sleeping. In Maryland, we were supposed to be sleeping in the state park, but we got rerouted and a church ended up opening their doors three miles off-course.
So are you in D.C. right now?
RD: Yes, the plan is for a 2:30 press conference.
And what's the general message you'll be promoting? We know the march was originally about showing the link between Wall Street and the government, but there was also a protest about the Supercomittee, right?
RD: The timing was supposed to coincide with the Supercomittee's findings, or decision. Now I think we're going to have an emphasis on the government: how they're really not there to represent the people. We'll go out there today and talk about what Occupy Wall Street's culture is: the plus and minuses of horizontal leadership, and the problems of our culture that we're trying to solve.