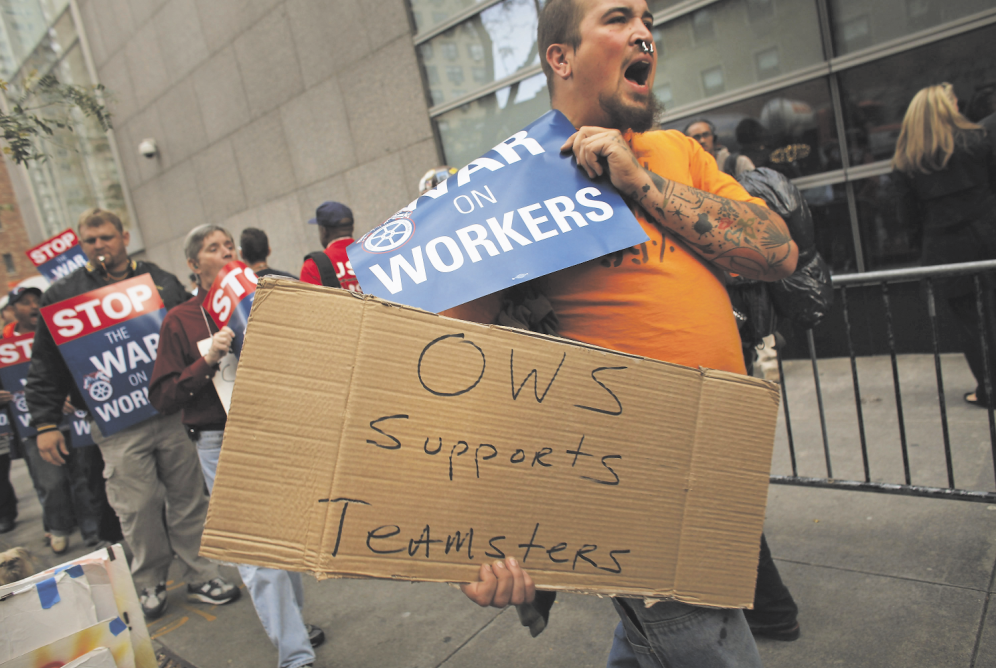 Tobias Meyer, the fastidious German auctioneer at Sotheby's, stood at the podium in the beige auction room two weeks ago, sweating gently in an uncreased suit and violet collar. Sotheby's had a strong lineup of 73 lots, including four paintings from the "triumphant period" of Clyfford Still, an early proponent of Abstract Expressionism. But the Dow was down three points, the Italian prime minister had just announced his resignation over economic turmoil, and there was a mob of about 150 protesters outside the auction house's glass facade, heckling the buyers and collectors on their way in.
"Shame on you! Go home!" protesters shouted as the likes of Eli Broad, Larry Gagosian and Jose Mugrabi scurried past the picket line before being sucked through the revolving door into the marble vacuum of the auction house. A small brass band outside Sotheby's pumped out a zippy rendition of "When the Saints Go Marching In" as a pair of girls clapped and two-stepped on the sidewalk. An older gentleman leaned over the metal barricades placed by the police and gave a zealous thumbs-down. "Boooo!" he taunted, then turned to Gallerist. "This is fun, isn't it?"
The protesters were picketing on behalf of the Teamsters Local 814, the union that represents the 42 art handlers at Sotheby's. When the union contract came up for renewal in July, Sotheby's hired the infamous union-busting law firm Jackson Lewis and proposed changes to overtime, benefits and restrictions on the use of temporary laborers, a package the union says amounts to a pay cut and a ploy to avoid paying benefits. The negotiations stalled, and on Aug. 1, Sotheby's told the art handlers not to come back to work. Since then, protesters at Occupy Wall Street have seized on the juxtaposition of Upper East Side art buyers versus blue collar art movers, giving what might have been a routine picket line an unexpected jolt.
One protester gave the Sotheby's clients the finger, provoking a gray-haired buyer with a checkered scarf. "Fuck you! Fuck you!" he shouted in a French accent. Once inside, he stood behind the glass window like a kid at the zoo, sticking out his tongue, mouthing obscenities, zealously grasping an imaginary phallus and pumping it a few times into his mouth before he grew bored or realized how many cameras were around. "He's in Sotheby's a lot," one of the locked-out art handlers told Gallerist as he aimed a flashlight at arriving clients' eyes. One picketer hoisted a cutout of Sotheby's CEO Bill Ruprecht's head on the end of a long pole. "I'm Bill the CEO," the back of the sign said. "I gave myself a 125% raise, HA."
The real Mr. Ruprecht was inside with "a big African American bodyguard," said one veteran art adviser, who noted that it was the first time they'd seen Mr. Ruprecht with a detail. "Sotheby's had staff beyond, beyond," the adviser noted. "It was like a hand-off. It started many feet ahead of the building, and as you got to the corner, a guy came and walked you a few feet to the next, who walked you a few feet to the next, so you're not alone for a step."
Sotheby's was worried about protecting its clientele, but it likely was more worried about protecting the art. "I'm just always amazed that nothing hideous has happened," the adviser said. "What's to stop a Tony Shafrazi from coming in with a spray can, which is what he did to Guernica? The thing is, he never went to jail for it and it actually gave him some business credibility in the art world!"
Indeed it had. Mr. Shafrazi, a legendary dealer who defaced Picasso's Guernica in 1974 as a protest against the Vietnam War, had come late to the sale and was pestering Miami-based collectors the Rubells about how much previous lots had gone for. In fact, once inside, most of the patrons quickly forgot about the protest. The rabble's whistles and cries were barely audible in the auction room, with the exception of the interminable eight minutes the first Still painting spent on the block. The room fell silent except for the protest's dull roar from outside, underscoring the tense volley between private dealer Christopher Eykyn, on a cell phone, and Sotheby's chairman of North and South America Lisa Dennison, also representing a phone bidder. Finally Ms. Dennison offered $61.7 million. "Sold!" Mr. Meyer banged his hammer. "Thanks, Lisa." By the end of the night, Sotheby's had unloaded $315.8 million worth of art, the house's best take for a single contemporary art sale in three years.
As for the protests, "some people were offended by it, and some didn't give a shit," said the veteran adviser. "They like being in the 1 percent! Anything that points that out is probably a good thing. That's why they collect, after all. They're very self-centered, these people. The whole art world really believes they are the epicenter of the world."
It's probably best that the picketers didn't see the auction open with one of Andy Warhol's Dollar Signs, a screenprint the size of a sheet of copy paper that sold for $698,000.
Delicious ironies aside, the 99 percent tactics don't appear to have won the union much sympathy with Sotheby's clientele. "It was uncomfortable," another art dealer said. "It was an ugly scene. I personally felt it was a slightly frightening, a hardcore element above just the union workings." However, this dealer added, "I took leaflets from everyone. I think that's the right thing to do." The protesters don't realize that patrons of a Sotheby's auction are generally underlings themselves, this dealer said, referring to the buyers placing bids on behalf of collectors. "A large majority of people in that auction room are working people: people working for the mega-rich. It's part of a service industry."
"I understand that's probably a good way of getting attention and of getting their issues heard, but it seems to me that it was overly aggressive," said one uptown dealer. "The shouting and being photographed and all the noise and the general feeling of running the gauntlet."
"To be honest, I don't even know what the dispute is about," one art adviser told Gallerist. "I think it has to do with wages."
It's hard to pinpoint just how or when the Occupy Wall Street movement took an interest in Sotheby's. But at the end of September, a small contingent of Occupy protesters washed their hair, put on something nice, and took the 6 train from Zuccotti Park to the auction house on York Avenue, where they snuck into a sale of contemporary art. "Sotheby's is fighting a class war against their workers!" a bearded man in business casual, one of about eight attendees who looked a little too young to fit in, stood up and announced. "Expect us! Expect us! We'll be back!" he hollered as security escorted them out.
"They were activists, young activists," an elderly Sotheby's patron recalled of the incident. "They kept standing up. It was so scary. They couldn't get them." Less than a month later, protesters infiltrated a sale of Impressionist and modern art, which an Occupy Wall Street press release described as "a sterile atmosphere, ripe with the stench of expensive perfume." One by one, undercover protesters stood up, blew air horns and shouted, "Shame! Shame on the 1 percent! Union busters!"