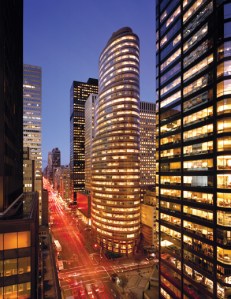 Leading the firm in New York is Tommy Craig, a presence in the office since 1983, when Mr. Hines opened his first shop outside of Houston here. Trim, with swept-back hair and a taste for baggily bespoke pinstripe suits, Mr. Craig looks the part of many of the bankers who often employ him. In fact, he was one, once, at JPMorgan for a few years after he graduated from U.N.C. Chapel Hill.
"I decided I wanted something more tangible," Mr. Craig told The Observer during an interview in his office last month. To be there is to realize the scope of the firm's work in New York. Pictures of his family lined one wall, dozens of industry awards and models of the buildings he built filled three rows of bookshelves on the other. A decent view of Park Avenue was just outside the window, but Mr. Craig does not have a corner office. Those are reserved for the conference rooms, so everyone can share in the views.
This is practical, as well as symbolic, since the firm is privately held. "That equity saved us," Mr. Craig said. "It is the reason we never blew up, because we are very careful with our money." This has also led to a highly adaptive firm, thanks especially to its global reach. "Because of all of our offices, we can tap into different markets and different pools of capital, but that all started in New York," Mr. Craig said. "So many of our partners are here. You have to be successful in New York to be successful internationally."
Hines first projects in New York, in the 1980s and early '90s were spec-built office towers, like the Lipstick Building and 31 East 52nd Street, an angular postmodern-style tower also completed in 1986 and designed by Kevin Roche and John Dinkeloo, the architects partly responsible for the Gateway Arch, as well as the Ford Foundation Building and U.N. Plaza. The next major project was 450 Lexington, finished in 1992, the work of SOM's celebrated Mr. Childs.
"It's one thing to build this kind of building on Park Avenue," ür-commercial broker Mary Ann Tighe said of the Lipstick Building. "It's entirely another to do it on Third Avenue, and then to fill it up so quickly, no less. That had a huge impact on the area."
When the recession hit in the '90s, the firm began to move from building on spec to partnering with firms in need of new buildings. Reversing the approach of the banks and businesses that had sought to build great buildings for decades, Hines would now do the hard work for them.This led to the partnerships with all the big banks. "The average person on the street may not know Hines," a real estate executive said, "but Lloyd Blankfein and Jamie Dimon certainly do."
The dot-com bubble led to another opportunity, as real estate was depressed and interest rates were good. Hines began shoring up capital and got into the business of acquisitions, buying instead of building top-quality towers. The one constant was the commitment to design—an easier proposition now that so many developers had begun to follow Hines's lead. In New York, 750 Seventh Avenue, 425 Lexington Avenue, 600 Lexington Avenue and 499 Park all entered the firm's portfolio. "We would buy, but only if it was up to our standards," Mr. Craig said.
Now, the firm has come full circle. It is again building on spec, as with the project on Bryant Park, but there are also the residential projects. In Soho, Hines built 40 Mercer, Jean Nouvel's take on the neighborhood's cast iron buildings, which was done with Andre Balazs, who gets most of the credit for the project. (Daniel Radcliffe calls the building home.) With Aby Rosen, Hines created the KPF-designed 1 Jackson Square just off Greenwich Avenue in the Village.
MoMA is easily the most ambitious of its new undertakings, even after the planning commission's sheering off of 200 feet when approving the tower in 2009. It will be one of the most dynamic contributions to the city's skyline in a generation. "When you respect someone because of their ethics and good taste,  it's natural to want to work with them," said Jerry Speyer, the man most often compared to Gerald Hines in New York. The MoMA trustee was instrumental in selecting the firm to build the new condo project.
There are similarly high hopes for Herzog & de Mueron's 56 Leonard, even if Hines was unwilling to discuss them beyond a brief statement. "Many of their projects, including the Beijing National Stadium, known as the 'Bird's Nest,' have become global landmarks, and we believe 56 Leonard will achieve that same status in New York and beyond," the statement read, highlighting the work of the renowned Swiss architects, best known here for 40 Bond Street and the new renovations to the Park Avenue Armory here.